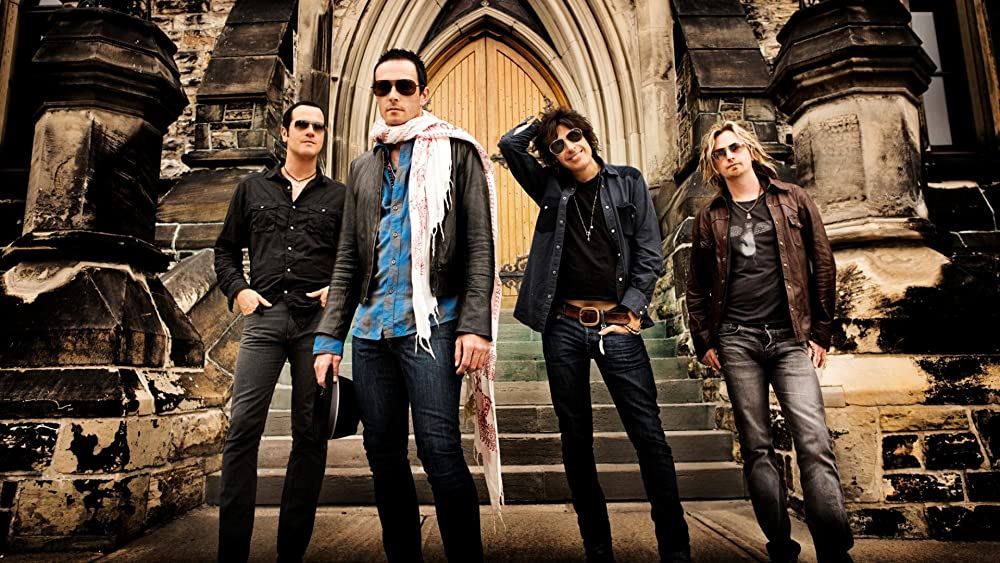 Originally published on August 1, 2000 at Ticketmaster's LiveDaily.com
"It's been an interesting decade, man," says Stone Temple Pilots' guitarist Dean DeLeo, who, along with the rest of STP, is backstage at Boston's Avalon club on Saturday, July 29. In a couple of hours, the group will perform a special VH1.com live webcast concert before a packed house filled with contest winners. Right now, though, DeLeo is reflecting on the long, winding, and often tumultuous journey that his band has been on for the last ten years.
"As a child, I had this desire to make records and just give a musical contribution," he says. "I knew, more than anything, that that's what I wanted to do … but I knew all the token benefits would come along with it."
Rock-and-roll excess
The token benefits of rock-and-roll stardom did, in fact, come along with the stratospheric success of STP's 1992 debut album "Core." The fallout from those token benefits–most noticeably frontman Scott Weiland's numerous heavyweight bouts with chemicals, rehabs and courtrooms–made it seem unlikely at times that DeLeo would have a band to talk about in the year 2000.
Though STP followed up the multi-platinum "Core" with two highly successful and diverse albums–"Purple" and "Tiny Music … Songs from the Vatican Gift Shop"–Weiland's battle with addiction came to characterize STP almost as much as the band's music itself.
So while Weiland struggled–and repeatedly failed–to get clean, the rest of STP–Dean DeLeo, brother and bassist Robert DeLeo and drummer Eric Kretz–tried in 1997 to make a go of it with a different lead singer under the name Talk Show. A temporarily drug-free Weiland, meanwhile, made a solo record of his own.
Fortunately for STP fans, both projects lacked the explosive chemistry that takes place when the band is assembled in its original form.
In the late '90s, STP reconvened and made "No. 4," a disc that features some of the most aggressive music the band has ever made alongside some of the most melodic.
"That record is pretty rewarding to listen to," says DeLeo. "We got to venture into different tonalities. It was a really, really nice record to make. I feel like it really sums up what STP is about. It's not a one-minded band. Everybody is very much a part of the pie. I don't think anything really repeats itself on any of our records."
Released in October of 1999, "No. 4"–and its hard-rocking first single "Down"–seemed to be a battle cry announcing the band's triumphant return. The only problem: Weiland was serving a prison term at the time of the album's release.
On August 12, 1999, STP played a surprise gig at the Las Vegas House of Blues to celebrate the upcoming release of "No. 4." Weiland was due in a Los Angeles courtroom the next day for violating the terms of his probation stemming from previous drug charges. The outcome of that courtroom date did not bode well for the band's plans to tour behind "No. 4."
"Gosh, you know, after that Vegas show, Scott was incarcerated the very next morning," recalls DeLeo. "We literally flew from Vegas and went right to the courtroom. He got taken away. It was really weird, man. It was really, really weird."
Weiland was sentenced to a year in jail, but the band followed through with the October release of "No. 4" nonetheless, not wanting to sit on what was possibly its best album to date. Still, with Weiland behind bars and the group's plans placed on hold yet again, the release seemed bittersweet. DeLeo says the band itself wasn't the group's first priority, though.
"More than anything, man–more than even any concerns over the band–[we were just concerned with] everybody's health and well being," says DeLeo. "With that intact, the band just falls into place, you know what I mean? Robert and I are brothers, and Robert's been playing with Scott and Eric since 1985. We really care about each other. We have an immense amount of respect and love for each other. That being intact, everything else is great."
The second coming
Now, almost a year after Weiland was sentenced, things do seem great for STP. Ten months after the release of "No. 4," a reinvigorated STP is finally touring full-throttle, and has been getting rave reviews for its energetic live performances.
"It hinges a lot on where Scott's at and the path that he has chosen to be on right now," explains DeLeo. "It's amazing, man. He's very focused. He's got a lot of great things to look forward to. I don't want to sound cliché, but he just has kind of a new lease on life. He's really enjoying living now and that funnels down to all of us."
As the band prepares to take the stage in Boston, a clean, sober and extremely fit-looking Weiland struts through the backstage area. The singer was released from prison late last year after serving five months of his one-year sentence, and went on to successfully complete a drug rehabilitation program. He has reportedly been drug-free for a year now. The only needles he's concerned with on this night are those used for sewing.
Modeling a pair of black pants, Weiland tells the band's stylist, "The problem is just that … [the pants are] fine, but when they get wet, they stretch. When they're like this, they're perfect. Is there any way that maybe I can have some kind of thing that I can tighten?" She suggests sewing in an elastic. "An elastic, yeah," he responds elatedly.
The band is set to spend the rest of the summer opening for Red Hot Chili Peppers, but tonight, they are the sole act in this Boston club. It is the second time this year that the group has been the focus of a VH1 special event; earlier this year, the group was featured on an episode of VH1's Storyteller series.
"We've been there for each other on a lot of occasions," says DeLeo of the band's relationship with VH1. "In these situations–I'll be real candid–one hand washes the other, and VH1 can be very advantageous. It beats sucking [VH1 president] John Sykes' cock."
Regardless of how the gig was arranged, the guitarist says the band seizes any opportunity it has to play in a club.
"Any time we can get in a small place like this, we take advantage of it," says DeLeo. "We let the spontaneity take us by the seat of the pants and see where it goes."
Where it goes on this particular night is right through the roof.
Live and loud
"Let's have a party, motherfuckers!" shouts Weiland at the beginning of the band's set. First sporting a cowboy hat and feather boa, then shirtless and showing off his newly-shorn Mohawk, the singer prances about the stage like a rock-and-roll peacock, bobbing, weaving and gyrating his gym-chiseled physique while delivering a spot-on vocal performance.
The DeLeo brothers and Kretz, meanwhile, are as tight as any power trio has ever been, playing each number with the perfect combination of both precision and improvisation. The band nails song after song from each of its four albums. The setlist reminds the crowd just how many winning tracks the group has written and recorded.
"From this point on, for the rest of the evening, we're gonna try out all brand new material on you guys and let you decide how you like it," Weiland facetiously tells the crowd about halfway through the night. The group immediately launches into "Plush," one of STP's biggest hits.
"It's really nice to have our set primarily consist of hits," says DeLeo earlier in the evening. "It's really nice to hear people sing the songs back to us. It's just a really dear feeling that we have with our fans."
Throughout the 90-minute show, the audience does plenty of singing back at the band. By the time the group ends the show with "Sex Type Thing"–during which Weiland is sporting fishnet, thigh-high stockings and a skimpy pair of shorts–the entire club is roaring the lyrics to the song that started the band's roller coaster ride.
Almost ten years after that song was written, the group is battle-scarred, but seems to be wiser for it, and is looking to the future.
The road ahead
"We're actually gonna be in New York next week and we're gonna track a new song that Robert put together," says DeLeo. The song will be included on a greatest hits album that the band plans to release this fall. "We have a couple of things that we left off 'No. 4' that will appear on that record, too."
STP's next album of all new material may not be that far off either, according to DeLeo.
"We're gonna work right up till Thanksgiving, touring," he says. "Then in January, we may go to Australia, New Zealand and Japan. If that doesn't pan out, we'll just start on a new record."
After a decade of heaping helpings of both music and controversy, STP finally seems to be at point where it can focus on the former and, hopefully, avoid the latter.
SET LIST:
Electric:
Crackerman
Vasoline
Tumble in the Rough
Wicked Garden
No Memory
Big Empty
Acoustic:
Sour Girl
Creep
Electric:
Interstate Love Song
Plush
Trippin' on a Hole in a Paper Heart
Down
Unglued
Encore:
Dead & Bloated
Sex Type Thing
Actual footage of "Sex Type Thing" from this show: