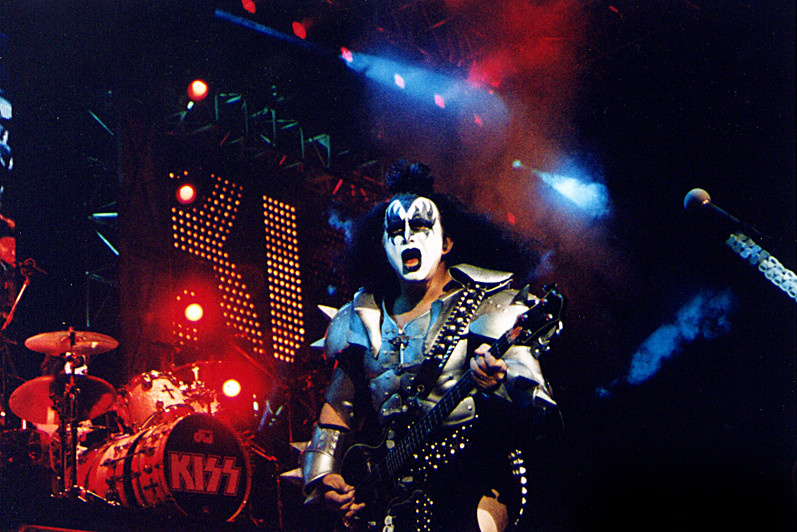 Photo by Jon Zal
Originally published on April 23, 2002 at SoundSpike.com
In addition to being the singer, bassist and marketer extraordinaire for rock juggernaut KISS, Gene Simmons is also a self-proclaimed egomaniac.
Based on his success, Simmons's overly healthy self-image is understandable. During its nearly 30-year career, KISS has earned the distinction of being, in Simmons's words: "The No. 1 American-band gold-record champions of all time; worldwide, the Stones and the Beatles are ahead by a few." (The group's expansive catalog is represented in last year's "KISS" five-disc box set.)
On top of the recording success that KISS — which Simmons co-founded in the early '70s with Paul Stanley (vocals-guitar), Ace Frehley (lead guitar) and Peter Criss (drums) — has enjoyed, Simmons' greatest accomplishment might be his ability to pump up his bank account by marketing KISS merchandise of every imaginable sort: dolls, comic books, credit cards, $4,700 KISS Kaskets (seriously) and, soon, KISS Kondoms.
The entrepreneurial rocker has also branched out by launching his own website, starting a new magazine titled "Gene Simmons Tongue" (the first issue hits stands on June 4), inking numerous development deals in Hollywood, and releasing in late 2001 a tell-all autobiography titled "KISS and Make Up." In the book, he dishes the dirt on KISS's inner-turmoil, with particularly unflattering attention given to Frehley and Criss.
On Thursday (4/18), Simmons talked to SoundSpike about the book, the ongoing turmoil in the group, the status of the long-delayed "Alive IV" album, and a number of other topics on which he offered his characteristically pointed opinion; he also hinted — briefly — at his future plans in the music business.
JZ: How did the other guys in the band — particularly Ace — react to you dishing the dirt on them in your autobiography?
Simmons: Reasonably well. I never heard anything negative from it, really. I told all the guys beforehand. Ace has always had a kind of a … shrugging his shoulders, "Oh well. That's who I am" [attitude]. Unfortunately, sometimes it affects the band … but sometimes I affect the band [by being] Mr. Hollywood, making new deals, checking them twice, finding out who's naughty or nice.
You know, fans like their heroes as simple black-and-white heroes. I'm only supposed to stick out my tongue 24 hours a day and do nothing else but. "Oh wow! Gene Simmons! Wow! Gene Simmons! Wow! Wow! Gene Simmons! Hey, do you have your tongue sticking out right now?" They want their heroes simple. The catch-22, of course, is that if [the heroes] are simple, [the fans] lose interest. So it's only by [virtue of the fact] that I repeatedly and constantly keep pissing everybody off that maybe they keep coming back.
You've certainly taken an unconventional route compared to that of most other "rock stars."
Yeah, but I don't care. All the other guys wind up working for me. You can take the safe approach, which is to do the paint-by-numbers, how-to-be-a-rock-star thing. How you do that is you become a drug addict, you don't show up on time, you sort of have a lazy-man's approach to the whole thing.
I prefer the working-man's ethic, and I think that most rock stars are morons and the fans that love them are even stupider … because they let [the rock stars] get away with this crap. The plumber who winds up going to work late gets his ass chewed out because he's late, and I think that rock stars should have the same rules apply. It's a good job — I would venture to say probably a better job than a plumber's — and so the guidelines and the rules should be even more strict, as far as I'm concerned.
You guys are taping your performance tomorrow (4/19) for "American Bandstand 50th." I was reading KISSOnline today —
Now, be aware that, even though we may have as many as 100,000 people who log on [to KISSOnline], it's only about 10 to 20 that, if you check the names, are [posting messages on the site] … you know, people who don't go to work and don't have friends. So, as a word of caution, as we all know, the Internet is the Wild West. It's never about — this is my preamble to the Internet — it's never really about facts and figures; it's all about innuendo — which is a big word like gymnasium — and I resent that the people who hog the spotlight give an inference that they speak for fan-dom in general. That's why I hardly ever go on to KISSOnline and usually stay at GeneSimmons.com.
Understood. However, I read on KISSOnline postings from fans who are speculating that Ace is not performing with you guys tomorrow. Is that the case?
We don't know. We sent a limo. I'd be happy if he was.
So that's up in the air.
Yeah. I mean, Ace has always been … [pauses] It's what makes him special, you know? You never know what you're going to get. It's been 30 years of this, the ups and downs. Ace is a rollercoaster. You know, it goes up, it goes down, but it sure is a ride, I'll tell you that.
If Ace doesn't show up, do you have someone lined up to perform with you?
There's always somebody. We always have a spare tire. This is not the first time, nor the last time. [Editor's note: Ace did not show up, and was replaced by guitarist Tommy Thayer, who wore Ace's makeup and costume.] It's a bizarre band. I wish I could make Ace happier, somehow … and Peter, too. They've both been tortured for years. I'm not sure I know what the torture is about. I'm happy. I'm a happy guy.
Last year, Peter split from the group for a second time after an unsuccessful attempt to renegotiate his contract. Previous KISS drummer Eric Singer replaced him, and has been performing in Peter's makeup and costume. Musically, do you think that Eric is a better drummer?
We've never really espoused the notion that you have to really play your instrument well to have good taste. You can sit here and tell me how caviar is a much more delectable food than a Whopper, but I like Whoppers … even above and beyond caviar. One has got good taste, but the other one tastes good. Eric is physically and conceptually a better drummer than Peter, and has more stamina and hits the drums harder and is a, quote, "better musician." But does Peter have a style? No question about it. Was Peter one of the main factors in giving KISS its identity? Of course. So, above and beyond how good somebody is, there is such a thing as style, which is something that is difficult to verbalize.
You mention in your book that, of the two of you, Paul has historically been more concerned with the band's musical integrity, while you've been more involved in the marketing side of things.
It's a relative comment, of course, because we all want the same thing. The real question is, "To what extent are you willing to curtail your life and be there 24 hours a day?" Paul always wanted to be a rock star, and almost nothing else but, and I never wanted to be a rock star. I wanted to be Boris Karloff … and Bill Gates. I always wanted that. I find rock stars, by and large, boring, because they only do one thing. They say, "Look at me! I'm young and I'm sexy!" Well, what happens after you're no longer young and sexy? So, to me, entrepreneur is a big word that's difficult to say, but it also sounds like a lot of fun.
Do you consider yourself a musician who happens to be very business savvy, or a businessman who happens to know how to play the bass and sing?
I consider myself a lucky bastard for not having to work for a living. The rest of it really doesn't matter. [If] you get to not have to work for a living and get paid, then everything else does not matter. You're an entertainer, you're a musician, you're not a musician, you're a whore, you're this or you're that. You know what? I don't have to work for a living. The rest of it doesn't matter. So, how I see myself isn't necessarily the right question, because I'm delusional. I'm actually one of those people who actually loves the sound of my own voice. I'm one of those guys who looks in the mirror and actually loves what he sees. I know I'm not as good looking as I think I am, but hell, it makes me feel good. I look in the mirror and go, "God, you're good looking! … Hey! That's me!"
Do you have any plans to continue making and releasing rock music on your own —
Yes.
— or with Paul?
Yes.
Any details that you can share at this point?
No. Soon.
The "Alive IV" album was originally due out about two years ago, but still hasn't been released. What's the deal?
It is coming. We've been holding off on it because — we started off on a [label] called Casablanca. Casablanca was then bought by a multi-national, as they used to call it back then: Polygram. We were the first act on Casablanca records, OK? Then, on and on and on, we went through six presidents, and finally Universal came and bought it, and then Vivendi. We didn't know if we were coming or if we were going. For a time, we were even on Def Jam Records. [in falsetto] "Yo, wasssssup?" It's embarrassing. And the last thing we wanted to do was to stick out an album while we couldn't figure out what label we were supposed to be on. Don't go fight a war unless the troops are trained.
Does the album have an ETA right now?
Estimated time of arrival … hopefully, the winter.
The Farewell Tour began two years ago last month and, though you guys have, for the most part, been off the road since last year, the tour has never officially been declared "over."
No.
You allude in your book to an expected finale at Shea Stadium in New York. Is that still on your radar screen?
It sounds like a good idea, doesn't it?
I'd make the drive.
Me too. I'd go. [Whether or not it happens] we'll find out together. I think everyday that we make plans, life just sort of winks and says, "Well, that's interesting, but here's what's gonna happen."
What is the craziest or most memorable thing that has happened to you while on stage?
Um … oh, you know, the usual: blow-jobs.
How about when you were actually in front of the audience?
I've only gotten one in front of the audience.