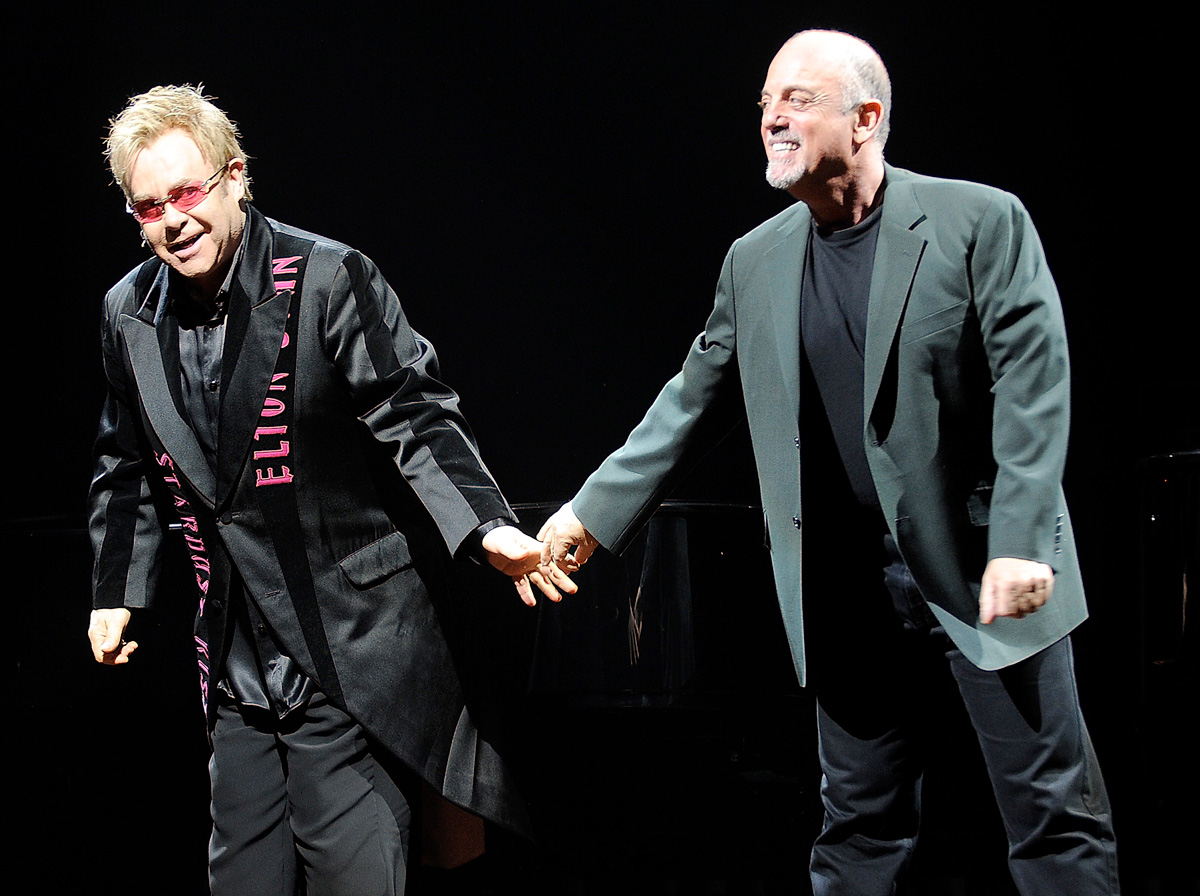 Originally published on January 25, 2002 at Ticketmaster's LiveDaily.com
Billy Joel and Elton John's current Face to Face tour features a spectacular light show, video screens, and two talented backing bands … all of which were completely overshadowed Thursday night (1/24) by two chubby, balding, middle-aged guys who know how to play the hell out of a piano and whose voices are as powerful as ever.
After taking the stage for the second night of their five-night, sold-out Boston engagement—Joel dressed entirely in black and John clad in a bright pink, rhinestone-bedecked suit—the pair spent a total of almost 3 hours and 45 minutes cranking out hit after hit.
Joel and John's current co-headlining tour is the pair's fifth such outing since the mid-'90s, and continues to be one of the biggest draws in the concert industry, with ticket prices ranging from $45 to $175 and sold-out, multi-night runs already lined up throughout the Eastern Seaboard.
From the onset, the pair strove to give the crowd its money's worth. Seated behind massive grand pianos, the veteran singer-songwriters demonstrated their remarkable playing abilities and signature vocal styles. Both feats were successfully translated through a well-mixed sound set-up that kept each star's performance crisp, clear and in the forefront.
The duo got things started with three duets before each took a turn delivering a full solo set. John was up first, and he delighted the audience with an arsenal of hits that included "Someone Saved My Life Tonight," "Philadelphia Freedom," "Take Me to the Pilot" and "Rocket Man."
Slipped amid the hits were "I Want Love," "This Train Don't Stop There Anymore" and "Ballad of the Boy in the Red Shoes," three songs from John's latest album, last year's "Songs from the West Coast." Those were the only songs of the entire night recorded during this millennium, and while well received, failed to elicit the kind of audience response garnered by the more well-known fare.
Between numbers, John walked his way around the stage, shaking hands, signing autographs and waving his appreciation to each corner of the full arena. He ended his solo set with a surefire crowd-pleaser, his '70s-era hit "Crocodile Rock."
Joel then took command of the psyched-up audience for a raucous set of his own that began with his much-loved "Scenes from an Italian Restaurant." For all of their similarities, the entertaining contrast between him and his British counterpart were clearly evident from the onset of the American's performance.
Whereas John's more ballad-oriented set elicited standing ovations between songs, Joel's up-tempo performance kept the crowd on its feet almost non-stop. Subtle differences were noticeable as well. While the eccentric John had between songs sipped from a can of soda that rested in an ornate, four-legged ice bucket kept nearby, Joel opted for several disposable plastic party cups set atop his piano. And while John had kept the between-song chatter to a minimum, Joel hammed it up, much to the delight of his fans.
"Thank you, Boston," he said during his first talk break, and then took a stab at affecting a Boston accent. "After the show, I hope you can remember where you pahked ya cahs."
He also joked about the poor job he did earlier in the day while cutting his own hair, which was cropped so short it was barely visible. "It's not like I can't afford to pay somebody to cut it," he quipped. "But, let's face it: it's not about having less hair; it's about getting more head."
Joel, who has not released a new album of pop material since 1993, took a moment to plug his latest release, "Fantasies & Delusions"—a collection of his own classical compositions performed by pianist Richard Joo—but assured the mainstream crowd that his set would be devoid of such material. "I think we'll pretty much stick with the old shit," he said, eliciting cheers.
And that's just what he did, barraging the audience with a litany of hits that included "Allentown," "Movin' Out (Anthony's Song)," "Angry Young Man" and "I Go to Extremes." The latter number saw the pumped-up performer kick away his piano stool as he hammered away on the keys.
Joel, a native New Yorker, preceded his classic "New York State of Mind" by thanking Boston for supporting New York City in the wake of Sept. 11.
"I'd also like to thank you for showing up," he said, then joked, "I mean, it's one thing to pay those outrageous ticket prices—we really appreciate that; my kid's gonna go to Harvard—but a lot of people have agoraphobia these days … So thanks for coming out."
He then praised his co-headliner, as well, saying that he was "proud to be working with an Englishman. That's another country that stepped up to the plate [after Sept. 11]."
The night's most bizarre and simultaneously most hysterical moment also came during Joel's set, when the stout performer strapped on a guitar, headed to the front of the stage and said that his longtime guitar roadie—a man he introduced as Chainsaw—would join the band for a tribute to Australian rock group AC/DC, whom Joel lamented has now been twice overlooked for induction into the Rock and Roll Hall of Fame.
Chainsaw—a towering, heavy-set hulk dressed in a black T-shirt and black jeans—proceeded to storm around the stage and belt out AC/DC's "Highway to Hell," backed by Joel's band and Joel himself, who chugged through some power chords on his electric guitar. The audience went wild.
Joel's set ended with the frolicking '80s-era hit "Only the Good Die Young," after which both he and John—who was now dressed in an aquamarine suit and matching shoes—returned to the stage for a number of duets.
The half-dozen shared tunes included Joel's "My Life" and "You May Be Right," John's "The Bitch Is Back" and "Bennie and the Jets," and cover versions of the late George Harrison's "Here Comes the Sun" and Jerry Lee Lewis' thunderous piano classic, "Great Balls of Fire."
The duo's pair of encore numbers were slower-paced, but Joel's apropos "Piano Man"—during which the two jubilant stars stopped the performance to listen to the capacity crowd belt out the chorus—was a fitting finale.
SET LIST
Billy Joel & Elton John:
Your Song
Just the Way You Are
Don't Let the Sun Go Down on Me
Elton John:
Funeral for a Friend/Love Lies Bleeding
Someone Saved My Life Tonight
Philadelphia Freedom
I Want Love
Rocket Man
Take Me to the Pilot
Ballad of the Boy In the Red Shoes
Levon
I Guess That's Why They Call It the Blues
This Train Don't Stop There Anymore
I'm Still Standing
Crocodile Rock
Billy Joel:
Scenes from an Italian Restaurant
Allentown
Vienna
Movin' Out (Anthony's Song)
Prelude/Angry Young Man
Lullabye (Goodnight, My Angel)
The River of Dreams
Miami 2017 (Seen the Lights Go Out on Broadway)
New York State of Mind
I Go to Extremes
We Didn't Start the Fire
Only The Good Die Young
Billy Joel & Elton John:
My Life
Here Comes the Sun
The Bitch Is Back
You May Be Right
Bennie and the Jets
Great Balls of Fire
Encore:
Candle in the Wind
Piano Man