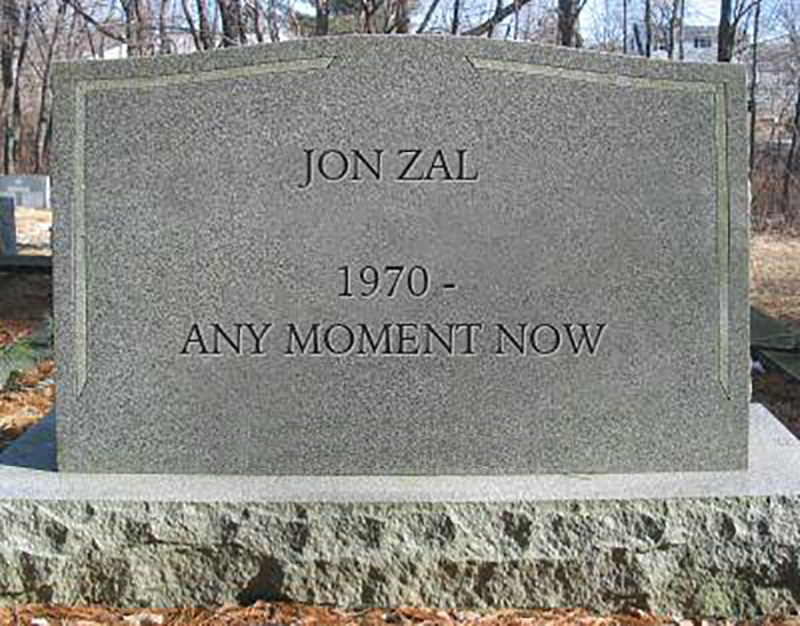 There are many downsides to being a hypochondriac … but it does have its benefits. Take yesterday, for example. Yesterday, I headed to my doctor's office for the third time in about two weeks … which, for me, is unprecedented, since my immune system is basically on par with Wolverine's. And yet, despite my mutant healing powers, I've had a persistent cough for, like, a month now.
During the first of my three recent visits to my doctor, he prescribed an albuterol inhaler and a codeine-based cough suppressant. After a week, the inhaler had accomplished nothing except cause me to suspect that "albuterol" is another word for "placebo," and while legally ingesting an opiate before bed each night seemed appealing, it felt less like I was "recovering from a respiratory ailment" and more like I was "developing a drug habit."
In addition to my ongoing cough and blossoming addiction, I also soon developed a reddish, dime-sized, welt-like thing on my face, just slightly below and to the right of my nose … which, really, is exactly where you want to develop a reddish, dime-sized, welt-like thing, because at least then it's not very noticeable.
I literally watched this thing spontaneously appear on my face while washing up after doing some work on our porch, and I tried to convince myself that perhaps I'd been bitten by a spider while tending to that chore … but being bitten on the face by a spider seems like the kind of thing a guy would notice while it was happening, so I wasn't fully buying my own theory.
Last Thursday, still coughing and sporting my attractive face welt, I returned to the doctor, who subsequently prescribed an antibiotic for the cough and a topical ointment for the face welt, about which he said: "I don't know what the hell that is."
Four days into my antibiotic-and-topical-ointment regimen, not only was I was still coughing like a barking seal and sporting my ever-snazzy face welt, but also I was experiencing a chronic headache and some general sensitivity and discomfort on most of the right side of my face, head, neck, throat and right ear. Clearly, it was time to do what any respectable, modern-day hypochondriac does to diagnose what ails him: check the Internet.
A brief Google search later, I reached the conclusion I always reach when I use the Internet to diagnose an unexplained ailment: I had cancer. Non-Hodgkin's lymphoma, to be exact.
Certain that my children soon would be fatherless and my wife a widow, I decided I should at least let the doctor confirm my imminent demise before getting my affairs in order. Thus, I called his office Monday evening, scheduled an appointment for yesterday morning, and spent the interim upsetting myself with thoughts of leaving my kids behind at such a young age, and of not seeing them grow into adulthood.
And I wish I was kidding, believe me … because I know that some people—"the sane," you might call them—can't imagine being so unbelievably neurotic …. but I am absolutely terrified of disease and death and my own mortality in general … to the point that it is a full-blown phobia. (This dovetails nicely with my hypochondria, which causes me to immediately assume anything more serious than a brief head cold is terminal.)
As I got out of my car and headed into the medical building for my appointment yesterday morning, I heard someone yell "Dead man walking!" Probably it was me who yelled it, but still … not a good sign.
"You don't have non-Hodgkins lymphoma," my doctor lied while examining me. "The discomfort you're having is only on one side of your head?"
"Yes."
"Is your scalp sensitive right here?" he asked while touching a newly sensitive region of scalp on the top-right side of my head.
"Yes," I replied, impressed that he had predicted that … so much so that I was willing to entertain the possibility he might not be lying about the you-don't-have-cancer thing after all.
"I know what you have now," he said. I assumed his next words would be "Terminal [something]." I was wrong. Go figure.
"You have shingles."
Shingles? Shingles? Who the hell gets shingles nowadays? Isn't shingles something people got in the 1600s after spending a month below deck while crossing the Atlantic? Or maybe that was scurvy. Either way, I'm pretty sure you have to be a special kind of basket case to contract shingles in 2014.
But anyway … on the one hand, I was all, "Boo! Shingles!" … but, on the other hand, I was all, "Yay! Totally not cancer!"
And so, "Yay! Shingles!" I said.
"You're probably the first patient I've heard say 'Yay! Shingles!'" replied my doc, who clearly has no idea just how deep my neuroses run.
"So I don't need chemotherapy?"
"No. I mean, I could give you chemotherapy, but it won't do anything beneficial for you."
I decided to skip the unnecessary chemo and instead received a prescription for Valacyclovir HCL 1, which comes in the form of an enormous, blue pill roughly the size of a whitewater raft. With any luck, it will clear up this shingles thing in the next week or two. I hope. Because my head is killing me … which bums me out until I remind myself that I don't have terminal cancer.
Which brings us to: You non-hypochondriacs are missing out on the incredible flood of headache-minimizing relief you could be feeling every time you learn that you don't have terminal cancer. And, yes, you might argue that the burden of needlessly worrying that you're about to die a horrible and premature death offsets the benefits of subsequently finding out you're OK … but that's only because you don't know how great it feels to experience the illusion of getting a second chance at life!
In related news: It's exhausting to be me.