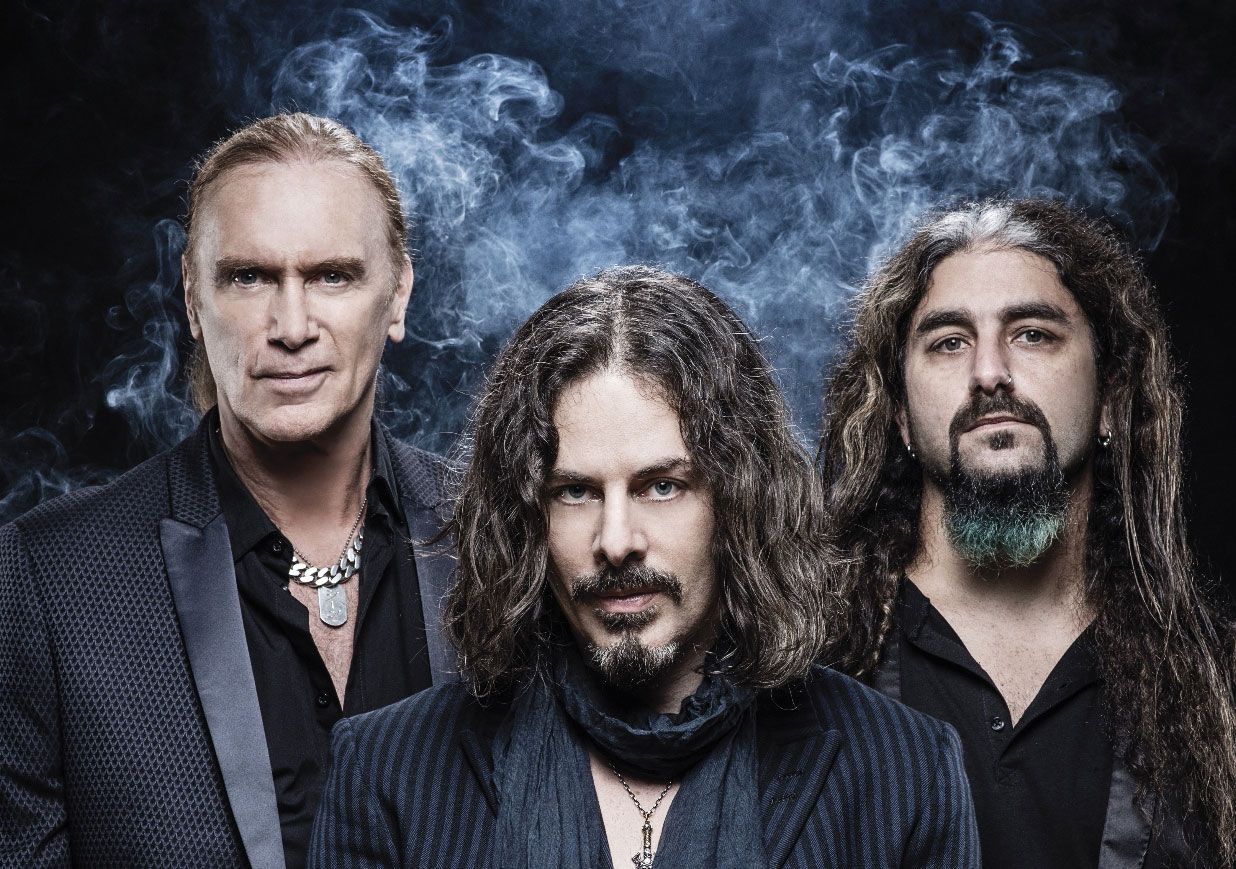 Originally published on Dec 15, 2015 at SoundSpike.com
Back in the early '90s, Richie Kotzen replaced the original guitarist in the band Poison for about five minutes, and if his brief and unlikely stint with that hair-metal outfit is the only thing for which you know him, then you don't know him at all. In fact, you've probably got the wrong impression.
During the two-plus decades since he fled Poison, Kotzen — a prolific singer/songwriter with an explosive set of pipes — has served up a steady diet of genre-bending solo albums heavy on soulful, blues-infused rock and six-string wizardry. His most recent studio set, "Cannibals," surfaced in early 2015, and his stage work in support of the album is documented on the recently released concert DVD "Richie Kotzen: Live."
In addition to garnering acclaim for his solo work, Kotzen is currently enjoying a surge in popularity as the frontman for The Winery Dogs, a supergroup he formed in 2012 with bassist Billy Sheehan (Mr. Big, David Lee Roth) and drummer Mike Portnoy (Dream Theater). The trio recently wrapped up a U.S. tour behind its sophomore album, "Hot Streak," and will head back out for more shows in early 2016.
Kotzen recently spoke with SoundSpike about his solo career, hinted at his future plans with The Winery Dogs, and explained that, despite his frequent studio output and aggressive tour schedule, he's not as busy as people think.
JZ: You released "Cannibals" at the beginning of this year, "Hot Streak" came out in the fall, "Richie Kotzen: Live" came out right on the heels of that. How do you find the time to do so much?
Richie Kotzen: There's a perception that I'm always working, and that's just based on the timeline of when things are released. The record "Cannibals," for example, that record was literally 10 years in the making. And what I mean by that is, the compositions that make up that record, a lot of them have been living on my hard drive for a very long time in various forms of completion.
The song "Cannibals" was brand new, but, for example, there's a song on there called "Come On Free" and it's almost like a '70s disco song. I've had that song recorded on my hard drive for over 10 years, and I just never knew what the hell to do with it. Then, after I wrote the song "Cannibals," I went back and listened to ["Come On Free"] and said, "Well, that kind of sounds like it could fit on the same record."
So "Cannibals" is an interesting record, because it's made up of all these ideas that I've had over the years that I finally just went in and finished. And before that, I did another thing called "The Essential Richie Kotzen" collection, which was something that my record label suggested I do because of all the people that were just getting into The Winery Dogs.
"The Essential Richie Kotzen" collection was my crash course in Richie Kotzen.
Yeah, exactly. You know, the question that I got asked all the time with The Winery Dogs — I'd come off stage and I'm standing by the bus and people were like, "Oh my god, I didn't know you could sing, I didn't know you had all these records out, and where do I begin?" So we made "The Essential Collection," just as a place to start.
As someone who only knew of you from your brief time with Poison and who then re-discovered you through The Winery Dogs, I've enjoyed catching up on what you've been doing since then.
That's one of the things that I really love about finally having this live DVD that I just released. For years, I've been playing and touring all over the place, and there's a lot of stuff out there on YouTube, but there's not really anything that's recorded properly. I released a DVD years ago when I was in Brazil — maybe it's 10 years ago by now — and we called it "Bootlegged in Brazil" just because of the way it was shot. The show was really strong, but it wasn't shot as well as it could have been.
Now, finally, with ["Richie Kotzen: Live"], everything kind of came together. The guys were there to film it correctly. They did a great job editing it. And, on top of that, the band, we really connected and played well — because that's the other variable; you can have all the equipment there to film and play like shit and then it doesn't matter, you know? [laughs]
For the past couple of years, you've been splitting your time between The Winery Dogs and your solo trio with Dylan Wilson and Mike Bennett. If your solo band is a Porsche, then I would liken The Winery Dogs to a Lamborghini, and I would wanna drive the Lamborghini all the time. How do you decide which project to focus your energy on?
Well, it kind of decides itself. It's interesting, The Winery Dogs — you know, you're using the car analogy, and I really like that. I use a basketball analogy; to me, when I look at The Winery Dogs, it's like an NBA All-Star game. People are running up and down the court dunking, not a lot of defense is being played, the score is 126 points to 140 points. Whereas I look at my [solo] band more like the Chicago Bulls. We're like a musical machine. It's like one unit. I almost feel like we have telepathy sometimes when we're playing, and I think that comes from us playing together for so long, but it also comes from Dylan and Mike's background. Those guys grew up playing jazz, and so, in that world, it's really about listening and it's about supporting the soloist.
What I really love about Dylan and Mike is that, when I go through a solo, the improv level that I reach is far beyond anything I've ever experienced in any outfit before, just by nature of how they respond to what I do and because their style is coming from such a different place than me. It really takes me to another level in those solo situations.
Their jazz background lets you be more improvisational.
Right. It makes a huge difference, especially when it comes to listening and responding. A lot of people can listen to what's going on, but it doesn't mean they're gonna respond the right way. You can listen, but you're not really hearing. And they're so good at listening and responding in the right way.
The other thing about playing with them is: that band is built around me, so I'm playing my songs, and I was fortunate enough to meet guys and hand-pick the guys that I wanna play with to bring my songs to life. So it's almost unfair to compare [my solo band and The Winery Dogs].
The Winery Dogs is a band. It's not just about me in the Winery Dogs. I'm a very big part of it because I'm singing and I'm playing guitar and I'm doing the lion's share of the writing at the end of it all, so I have a huge hand in it, but it's not all me. Billy is Billy Sheehan. Billy invented a whole other way to play the bass guitar. He doesn't play traditional bass guitar. He's doing something that only he knows how to do. And that is a sound. He's a stylist. He's creating a whole other thing. And Mike — I don't think there's any award that he hasn't won as a drummer. So, you know, he's got his stamp. So The Winery Dogs really is a band, and it's not just about one person. We all play together in a way that we create a bigger picture together. If you take any one of us out of The Winery Dogs, it wouldn't sound the same.
The Winery Dogs is nice for me because it gives me a chance to get away from myself a little bit and have some other people kind of help carry the load or pull the wagon, if you know what I mean.
I would imagine that it must take some of the pressure off you and allow you to be a different performer than you would be in your solo band.
Well, it's interesting. In my solo band, I'm way more relaxed because the "look at me" element isn't at play. Without that in the mix, the focus is really on the music. With my [solo] band, the approach is almost that you're gonna play as if the audience is blind. It's really about the music.
With The Winery Dogs, there's a show element at play. When you come to a Winery Dogs show, there's more of a visual element. We ham it up a lot. We do a lot of silly shit on stage, and I think people like that. But if I'm throwing the guitar behind my back and Mike is throwing his sticks in the air and all this craziness, the music is going to suffer on some level. It does. Because sometimes I drop my guitar, sometimes he drops a drumstick, or sometimes something happens that fucks something up, but it doesn't matter because it's tongue-in-cheek. It's part of it. It's a rock-and-roll show.
With all that stuff going on — and Mike's even said it — I'm almost the guy that's gotta be the "straight man," because if I start really going crazy, then it'll just turn into chaos. You know, you've got Billy doing his thing and making his harmonic squeals and banging on the bass and pulling strings and just doing crazy shit, and Mike's throwing his sticks in the air and hitting himself in the head, so I've gotta just really be up there playing the music to keep it [steady]. It's almost like I'm the drummer sometimes, you know? I'm like the rhythm section and those guys are the soloists.
What's next for you?
The Winery Dogs are gonna go back out at the end of January, go to Europe for about a month, and then I think we're gonna try to fill up most of the year [with more tour dates].
Do you expect to do more U.S. shows next year?
I think so. That's our plan. As long as The Winery Dogs want to play and we're having fun and there's a demand, you know, we'll keep doing it. And then eventually we might get tired of each other and Mike will go off and do one of his bands and I'll write another solo record and go tour and then we'll come back again and be fresh.
Do you see doing another Winery Dogs album?
Yeah, I don't see why I wouldn't, you know? I mean, I have a luxury in my life as it relates to my solo career. It's really a situation where, when I have an idea for a song, I can go into the studio and write it, and when I have enough songs that I really like, then I'll put a record out. And so that could happen in six months from now, or it might happen in two years from now. I don't know and I don't think about it; I just live my life and, eventually, hopefully, I have a collection of songs that I wanna share with people. And I think that results in me being really true to myself creatively and artistically.
It's hard to implement that kind of mindset into a band when you're dealing with other people that need schedules and deadlines, but it's just kind of the way that I have to work. So, in my mind, I feel like I will absolutely do another Winery Dogs record; I just don't know when. Creatively, I haven't had an idea for a song in three months. So, clearly, I need to recharge and get some more input in order to have more output. But I think there's no reason why we shouldn't keep going, because the band is fun and people are interested in what we do and we enjoy working together. So the answer would be "Yes." That's a long-winded "Yes."