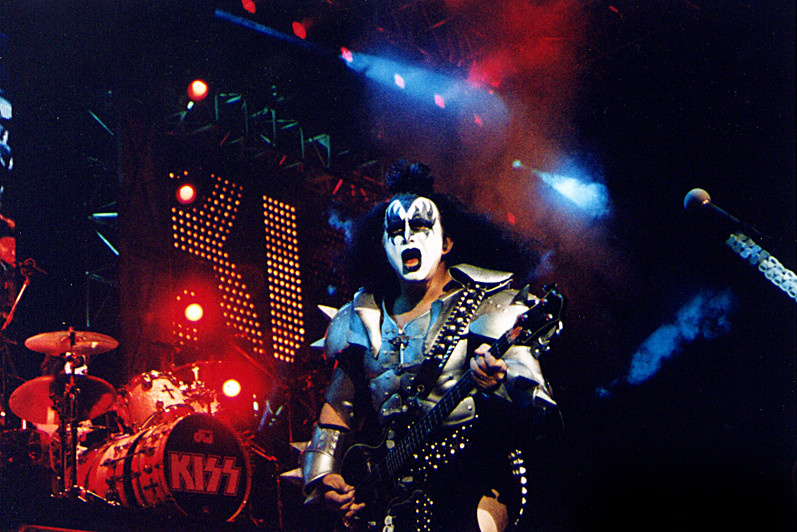 Photo by Jon Zal
Originally published on March 13, 2000 at Ticketmaster's LiveDaily.com
PHOENIX, Ariz. — "You wanted the best! You got the best! The hottest band in the world … KISS!"
As the band's name echoed through the arena, the curtain dropped to reveal rock-and-roll's face-painted foursome, who were lowered to the stage on a platform that descended from the ceiling, arms raised in a victorious pose. The two-hour show that followed contained all the customary theatrics KISS fans — a.k.a. the KISS Army — have come to expect: explosions, pillars of flame, fire-breathing, blood-spewing, rocket-launching guitars, levitating drum risers, and tons and tons of confetti. There was, however, one subtle yet palpable difference about this gig: the band was saying goodbye.
On Saturday night, March 11, KISS launched its farewell tour in Phoenix. After a 27-year career that has seen multiple lineup changes, makeup and non-makeup incarnations, and one of the most successful reunion tours in rock history, the band has decided to call it quits. Never known for its subtlety, however, KISS is going out with a bang rather than a whimper. Thus, Paul "Starchild" Stanley, Gene "The Demon" Simmons, "Space" Ace Frehley and Peter "Catman" Criss have embarked on a 75-city tour to bid their fans adieu.
"This tour, some people think, is us celebrating what we did," said Stanley while addressing the rabid audience on Saturday night. "We couldn't have done this without you people. We are celebrating a victory we all had together! Nobody thought this would work, and you told them they were wrong!"
Over the last three decades, KISS has been an easy target for music critics. Although they are second only to the Beatles in terms of gold album awards, their music has never been recognized as much more than formulaic, arena schlock. Be that as it may, there is one fact that can not be disputed: KISS knows how to put on a live show like no other.
Decked-out in their 1976, "Destroyer"-era costumes, and gracing a massive metal-and-speaker-laden stage, KISS gave the crowd what they came to see. The 21-song set spanned roughly two hours and, with very few exceptions (a few tunes from the band's non-makeup years are played by the current lineup for the first time) contained the songs and antics the crowd expected. Frehley's guitar smoked and shot rockets into the rafters during his solo. Criss' drum riser did just that, ascending some 30-feet above the stage. Simmons breathed fire, spewed blood and flew via cables up to the lighting rig. Stanley mounted a swing-bar and sailed out over the audience to perform a song on a small stage in the middle of the venue. Sure, they've done it all before, but that's just the point: KISS is doing it because the fans want to see it.
Truth be told, these guys are making the right decision to hang it up now. With an average age somewhere in the low 50s, KISS' band members are getting a bit long in the tooth for this routine. A close-up look reveals aged faces that can only be hidden by face paint for a short while longer, and no one wants to see what they look like in spandex come 60. For this one last jaunt, though, the costumes and makeup keep the band ageless enough that, from the audience, it might as well be 1977 again.
As if to punctuate that fact, KISS pulled out its two '70s-era trademarks to end Saturday night's performance, and will likely do the same throughout the tour. First, Criss took center stage for a solo performance of his lighter-waving classic, "Beth."
"God bless you all, Phoenix," said Criss at song's end. "It was great all these years."
Then, to no one's surprise, the show ended with the band's anthem, "Rock and Roll All Nite." The song came complete with spinning fireworks on both Frehley's guitar and Criss' drum riser, explosions galore, and a veritable blizzard of confetti.
"Don't you forget about us!" Stanley told the frenzied crowd before leaving the stage. "We'll never forget about you!" And with that, KISS finished saying their first goodbye.
SETLIST:
Detroit Rock City
Shout It Out Loud
Heaven's On Fire
Deuce
Firehouse
Shock Me
Psycho Circus
Calling Dr. Love
Let Me Go Rock & Roll
Do You Love Me?
Into The Void
Cold Gin
God of Thunder
Lick It Up
I Love It Loud
100,000 Years
Love Gun
Black Diamond
Encore:
I Stole Your Love
Beth
Rock & Roll All Night.