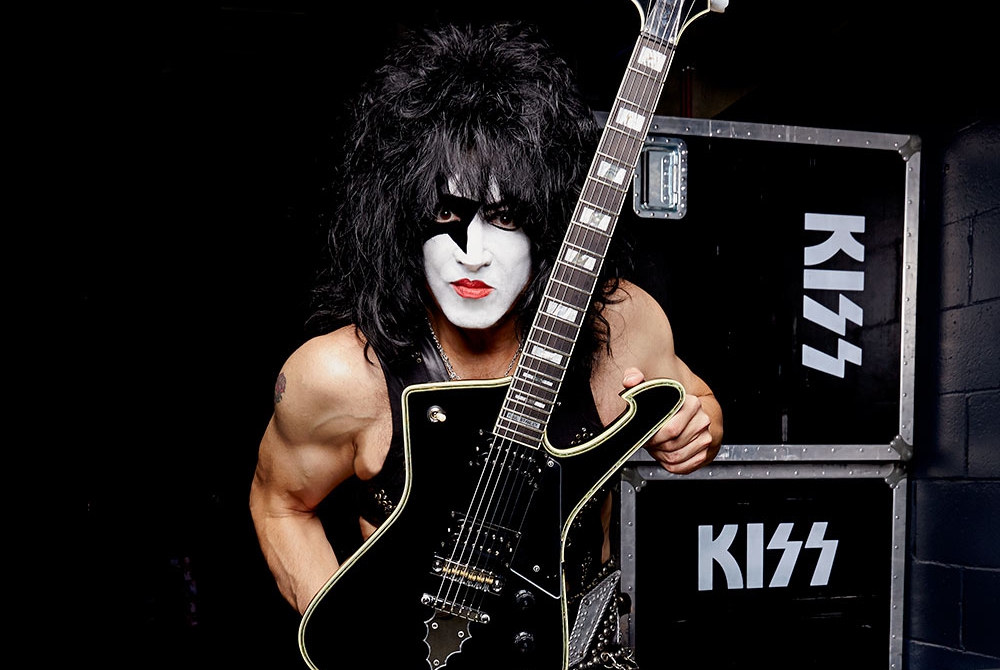 Originally published on March 17, 2000 at Ticketmaster's LiveDaily.com
It's 10:40am on a Thursday, and KISS frontman Paul Stanley, calling from his hotel room, sounds tired — which, admittedly, he has every reason to be; he's just two days away from launching his group's final tour, and has spent weeks preparing for a show that involves running around in seven-inch platform boots, flying on the end of cables, and dodging more bombs and pillars of flame than one might expect to encounter during a small war.
Although fatigued, Stanley is excited about the group's impending tour, and is ready to discuss the amazing ride he's had at the helm of this rock juggernaut.
Twenty-seven years ago, Stanley and bandmates Gene Simmons, Ace Frehley, and Peter Criss donned face paint and outrageous costumes in the hopes of becoming rock superstars. Since then, the band has written a history for itself that has exceeded its members' wildest expectations.
The group first achieved phenomenal success in the late-'70s with its original lineup. The early '80s saw the departure of both Criss and Frehley, however, and, during the 15 years that followed, Stanley and Simmons forged ahead, sans makeup, with several different guitarists and drummers. Finally, in 1996, the group embarked on a highly successful reunion tour featuring the original lineup in full makeup and costumes. A studio album and second tour followed.
Now, after two eras of stratospheric success, KISS is calling it quits. To say goodbye, the band is embarking on a farewell tour that will feature all the bombast and theatrics their fans have come to expect. On the eve of KISS' last hurrah, Stanley looks back on the nearly three decades that have passed since he first painted a star on his face and set out to become just that.
JZ: You guys have achieved tremendous success twice now with the original lineup. How has that felt?
Paul Stanley: It's amazing. It's so beyond what anybody would ever expect. It's like winning the lottery twice. The only difference is that, with the lottery, it's just luck; with doing what we've done, it's a lot of hard work. In the beginning, had we only had five years of success, I would have felt blessed. But to have the time in the '70s, then go through personnel changes and the non-makeup period, then regroup with the original lineup and become the top-grossing tour of the year … it's amazing. It's something that I don't think anybody else has ever done. It begs the question, "What do you do next?"
What's the answer to that question?
The answer is you thank everybody with the biggest party possible and you go home.
For KISS fans who grew up with the four of you as childhood heroes and saw the original lineup disband, the reunion has seemed like the closest thing you could get to having your favorite rock performer come back from the dead and go out on tour.
Putting my involvement in the band aside, I have to say that it's like a myth or a legend returning. It's the stuff that folklore is made of: "Once upon time, there was a band that did the ultimate show … and then they came back." The one obstacle to overcome in a comeback, though, is that the past tends to get embellished. What people expect from you may be well beyond what you ever accomplished. The legend looms larger than life. When people were coming to see the return of the band, they were actually expecting a show that never existed. What we had to do was be what they remembered. We worked real hard at it. Nobody wanted to see a bunch of sad, fat guys on stage. Thanks to our hard work, the reunion tour was an enormous success. After that, we did the studio album, "Psycho Circus," and then went back out on a tour that, again, was an enormous success. We really looked at each other at that point and thought that maybe it was time to put the boots on the mantle where they belonged and, out of respect to what we accomplished and to our fans, call it quits. When somebody leaves and doesn't say goodbye, though, no one really gets a chance to appreciate or acknowledge or thank each other. That's really the purpose of this tour: to celebrate the accomplishments not only of the band and the history of the band, but the history and the accomplishment of the fans. This has been a band and will continue to be a band that is very much fan-supported and fan-propelled.
During the non-makeup years, the four of you often publicly stated that you didn't foresee a reunion happening. Compare how you felt then to how you feel today after spending the past four or five years together again. Have you guys rebuilt or rekindled the friendship that you had when you were four guys in a loft in New York?
With family, you learn to accept people's shortcomings, and you also have limits to your forgiveness and your flexibility. Everybody in the band has changed, yet we're still all the same people. The intolerance and the major problems, however, are gone. So nothing has changed and everything has changed. It's all about limits. It's all about respect for yourself and your peers and your fans. When that's not there, then you shouldn't be there. As long as we play by those rules, we can play together.
Do the four of you plan to stay in touch, either on a personal or professional basis, after the end of this tour?
We're not going to disappear from each other's lives. Gene literally lives two minutes from me. We will all be in touch. As far as the future of KISS is concerned, though, this is the end of the band as a live entity. To look much beyond that means that I'm not really savoring and enjoying the moment. If I'm thinking about the future, then I'm not living in the present. This is too exciting, and what's going on is too important to me to look too far into the future. I just got an email yesterday from one of my friends who said, "Savor every moment of this. You worked for it and you deserve it." That's really what this is about. This is about going out there nightly and really savoring and celebrating this band. Too often in life, we find ourselves saying, "Gee, if I had only known." Well, I know, and so does everybody else in the band and so do the fans. That makes it a better time for all of us.
KISS fans have been clamoring for a box set for years. Have you given any thought to doing so now that the band is coming to its end?
Sure. We've thought about it probably since the late '80s. The only reason we've never done it is because there was always something new to be done tomorrow. Will we address it? Sure. There is a box set to be done and we certainly have the content.
You played the lead in the Toronto production of "Phantom of the Opera." How was that experience?
It was awesome. Life is about challenges. To look at something and know you can do it is one thing; to actually do it is another. To audition for a role, get it, and then perform 120 shows and receive 120 standing ovations from an audience that, for the most part, couldn't have cared less about who I am was incredibly rewarding and enlightening. It was a test of my own perception of myself and it worked. That was a new door for me to open and I'm far from done there. As soon as the KISS tour is over, and after I take a break, I'll be doing Broadway.
There has been speculation in the past of a KISS Broadway production. Is that something that you guys are still toying with?
We toy with everything. It's not a reality at the moment, which isn't to say that it's not a great idea. It will be looked into more closely.
How do you see this tour differing from the previous two tours that you've done since reuniting the original lineup?
The major difference is the perspective of the band and the emotional state of the band. Let's face it: We all know what a KISS show is. Will there be bombs? Yeah. Will Peter go up in the air? Of course. Will I fly out over the audience? Sure. Will Gene spit blood? Yes, of course. Will Ace shoot rockets? Yes. Is it a great-looking stage? Yeah, but to the person who doesn't follow KISS, does it look like the last stage? Of course. Do we look the same? Of course. I've always believed that any band with money can have a KISS stage—and many of them have. So it's really about the band. I think the difference, often, between one show and the next is where the band is at mentally. Knowing that this is the Farewell Tour puts our psyche and our hearts in a different place. That's the main difference.