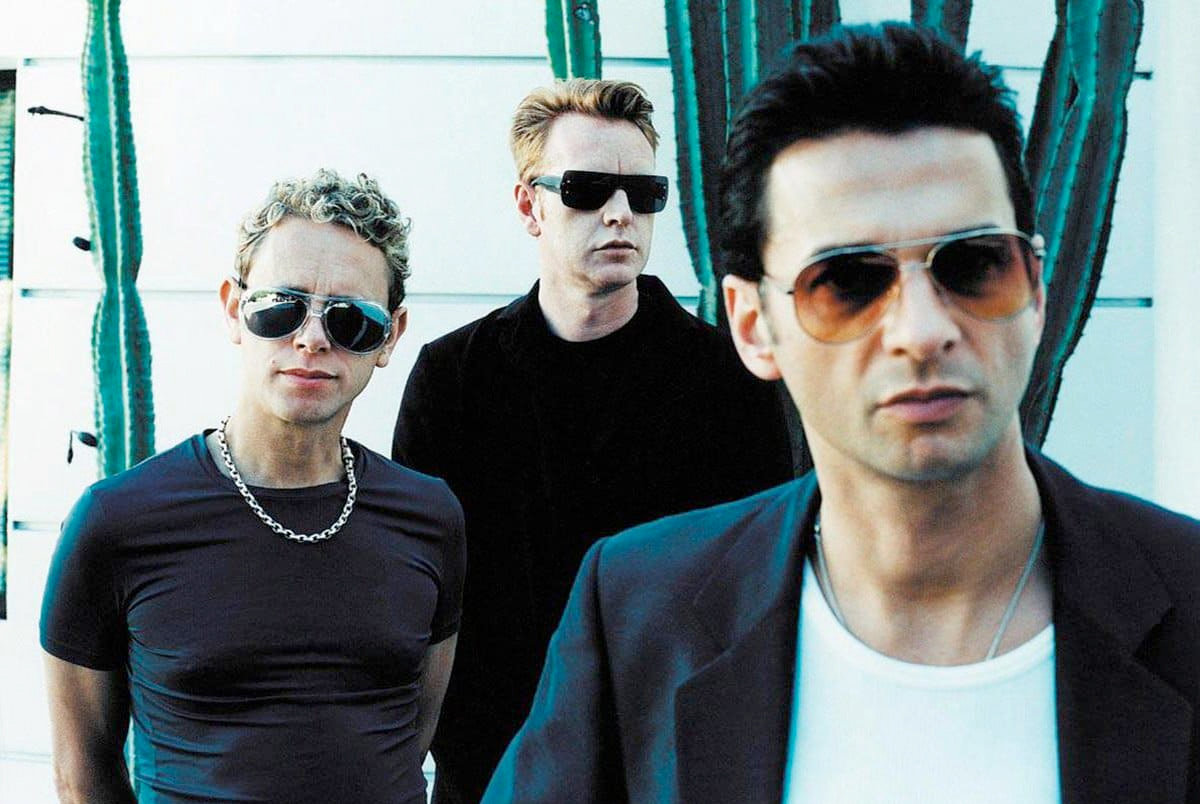 Originally published on July 3, 2001 at LiveDaily.com
MANSFIELD, Mass. — On its studio releases—particularly this year's "Exciter"—Depeche Mode's synthesizer-heavy music is often a mellow affair that does not hint at the trio's proclivity for the kind of bombastic and energetic performance it gave its Boston-area fans on Sunday night (7/1).
After a spate of violent, early-evening thunderstorms, a crowd comprised of both black-clad, heavily pierced goths and casually dressed yuppies filled the seating area beneath the amphitheater's roof (the lawn was mostly vacant) and were treated to a furious storm of a different kind: Depeche Mode frontman David Gahan.
Following a brief instrumental intro during which a pre-recorded snippet from the group's latest single, "Dream On," whet the audience's appetite, a visibly psyched-up Gahan—whirling about in stylish, dark-colored bell-bottoms and shirtless beneath a matching vest—took command of the show. The now-sober singer—who, in the past, has battled an addiction to heroin—spent two hours delivering album-quality vocals that were rich, lush and powerful, while simultaneously dancing and thrashing about the stage like a man possessed by the spirits of Elvis Presley, James Brown, and Mick Jagger.
Propelling Gahan through the high-charged performance was, most notably, touring drummer Christian Eigner. Songs that, on album, feature either electronic percussion or far more subtle live drums were pumped-up to seemingly steroid-induced levels thanks to Eigner's positively thunderous thrashing.
Playing co-host to Gahan's lead role throughout the night was group brainchild Martin Gore. Dressed in an all-white ensemble of sneakers, pants (from the waist of which hung a short cape), and a T-shirt adorned with a boa-like arrangement of white feathers over his right shoulder, Gore came off as the impish leader of the audience's goth contingent, dividing his time between playing a rainbow of colorful guitars and working one of the stage's three keyboard set-ups while frequently complementing Gahan's singing with his own deliciously sweet harmonies.
The multi-faceted Gore also took the mic for lead vocals on three songs, including "The Bottom Line," which, in a great departure from the version found on 1997's "Ultra," he performed with a country-and-western flair.
Hanging in the background throughout the night was the sedate Andy Fletcher, who rounds out the group proper. Fletcher was content to play keys and deliver an occasional backing vocal, leaving more theatrical pursuits to Gahan and Gore.
The show's sound was excellent, with Gahan's vocals clearly audible, the high-end instrumentation bright and clear, keys and synthesizers set at a perfect volume level, and the low-end–particularly Eigner's drums–rumbling the crowd just enough without muddying up the overall canvass.
The set list drew almost exclusively from the group's past four albums (1990's "Violator," 1993's "Songs of Faith and Devotion," 1997's "Ultra," and this May's "Exciter"); the only pre-1990 numbers that surfaced were the final pair of the night: the title-track from 1986's "Black Celebration" and "Never Let Me Down Again" from 1987's "Music for the Masses."
Perhaps the only detriment to the production was the inexplicable and distracting inclusion of back-up singers Jordan Bailey and Georgia Lewis. While both are clearly talented singers, their talents aren't needed in a group that features the more than ample harmonies of its own members, as was obvious when Bailey and Lewis drowned out Gahan during the chorus to "Freelove."
The sleek, minimalist stage was designed by the group's longtime artistic collaborator Anton Corbijn, and featured a wall-to-wall, bright-red floor. The sea of red was offset by Eigner's massive white drum kit and a handful of upright, fluorescent-light sculptures set behind each of the angled, metallic keyboard stands.
A giant projection screen served as a backdrop, and featured stunning visuals chosen to complement each song. Highlights included the water-drop and rain footage timed to the sequencing of "Waiting for the Night," and the tension-creating illusion of two goldfish swimming on the screen just out of reach of a shark during "In Your Room."
The latter portion of the group's pre-encore set was heavy on hits, with a particularly powerful one-two punch delivered by the pairing of "Enjoy the Silence" and "I Feel You." By the end of that coupling, Gahan, off-mic and facing the rear of the stage, was rapidly beating his chest like Tarzan, as though he was unable to contain the energy coursing through his thin frame.
Gahan reveled in his role as ringmaster during the night's encore, inciting the audience members to clap in time, wave their arms back and forth over their heads, and sing several choruses.
The formerly heroin-addled singer, who was a bare-chested and sweaty mess by show's end, has clearly found a new high in performing.
Set list:
Easy Tiger – Dream On
The Dead Of Night
The Sweetest Condition
Halo
Walking In My Shoes
Dream On
When The Body Speaks
Waiting For The Night
The Bottom Line
Breathe
Freelove
Enjoy The Silence
I Feel You
In Your Room
It's No Good
I Feel Loved
Personal Jesus
Encore:
Home
Clean
Black Celebration
Never Let Me Down Again