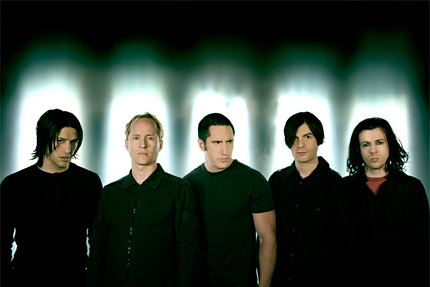 See the guy in the middle up there with the big guns and the buzz cut? That's Trent Reznor, the mastermind behind the industrial-rock juggernaut known as Nine Inch Nails.
I am quite fond of Mr. Reznor and his music. (This is what we in the writing business refer to as "an understatement.")

His first two albums, "Pretty Hate Machine" and "Broken," were the soundtrack to my early '90s "Women were created by the Devil and he has instructed them to rip your still-beating heart from your chest, throw it to the floor and dance a little jig on it" phase.
His tour behind 1994's "The Downward Spiral" included a career-making performance at Woodstock '94, during which he and his bandmates threw the entire three-day event over their collective lap, spanked its ass red, grabbed it by the hair and dragged it away like a caveman. I was there. It was that good.
Over the past two decades, I have probably been to a couple hundred concerts. NIN's June 2000 tour stop in Phoenix — part of the group's roadtrip behind 1999's "The Fragile" (a two-disc album to which the word "masterpiece" can safely be applied) — ranks in the Top 3.
Trent takes his damn sweet time between albums. There was a six-year gap between "The Fragile" and last year's "With Teeth." During those six years, I cultivated many a contact in the music industry. And so it was with great joy that I landed a pair of free tickets to his most recent concert in Boston.
The night finally came. The seats were terrific. The lights went out. The group hit the stage.
Unfortunately, the aforementioned group was this one: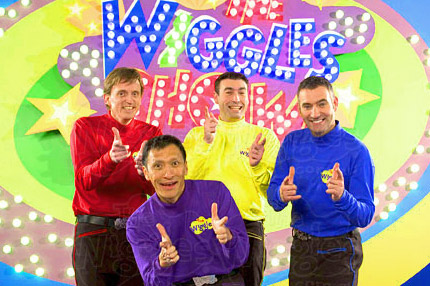 I have always sucked at math, but, even with that handicap, I am willing to go out on a limb and say that the odds of Nine Inch Nails and The Wiggles choosing the same night of the same year to perform in the Boston area are somewhere in the neighborhood of a bazillion to one.
Seemingly slimmer still were the odds that my head wouldn't detach itself from my body, blast itself into orbit and explode like a confetti bomb over the prospect of missing the NIN gig in order for my wife and I to take our resident Wiggle-a-holic to his first concert. But, lo and behold, not only did I not mind (too much) … I actually had fun.
And this, boys and girls, is called "parenthood."