Every year, my co-workers and I mosey on down to Austin, Texas, for the annual South by Southwest music conference—or SXSW, as it is known to we the hip.

Believe it or not, Austin is one of my all-time favorite cities. I say "Believe it or not" because, as mentioned previously, Austin is in Texas. I get twitchy when I'm too far outside of Boston, New York or Philly, but to take me out of dark blue Massachusetts—which, I am happy to report, is considered by some to be the most liberal state in the union—and drop me in bright red Texas is, at face value, a proposition that would normally frighten the bejesus out of me. So imagine my surprise during my first trip to SXSW back in 2000 when I found out that Austin is a bohemian oasis in the middle of cowboy country. The city's "cool" factor is exponentially amplified during SXSW, when more than a thousand musical acts show up to play at dozens of clubs and concert halls that are all within walking distance of each other.
Each year, we have stayed at a different hotel, all of which have been located downtown, right in the midst of the action—and, might I add, a short walk away from Jamba Juice, whose smoothies and all-natural cinnamon-apple pretzels I live on when here.
So it was with great dismay that, upon my arrival yesterday, I was dropped off at a moderately sucky Holiday Inn that is a great distance south of the downtown area.
Let us glance for a moment out of my hotel window: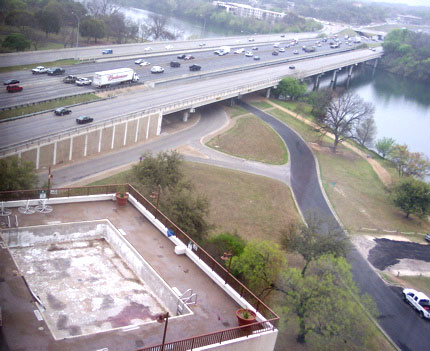 The proximity to the highway would be more tolerable if it weren't for the fact that I need to either employ a Sherpa or take a cab if I wish to venture downtown. What? That big, discolored rectangle in the lower-left quadrant? Why, that's the pool, of course. Consider it a visual aid that conveys the overall Holiday Inn experience.
At least I can take solace in the fact that my co-workers are in the same boat … oh, no, wait a minute, they aren't! They're staying someplace else! Someplace nicer. Yippee!
Fortunately, I can escape at will from my cell here on the 11th floor, which I plan to do shortly. Time to grab a bite to eat and head on over to Stubb's BBQ, whose outdoor stage the Beastie Boys are rumored to be hitting for a secret gig a couple of hours from now.
If all goes as planned, I will soon be sipping a margarita, fighting for my right to paaaaaaaar-tay, and forgetting all about serving my sentence here at the Holiday Inn.