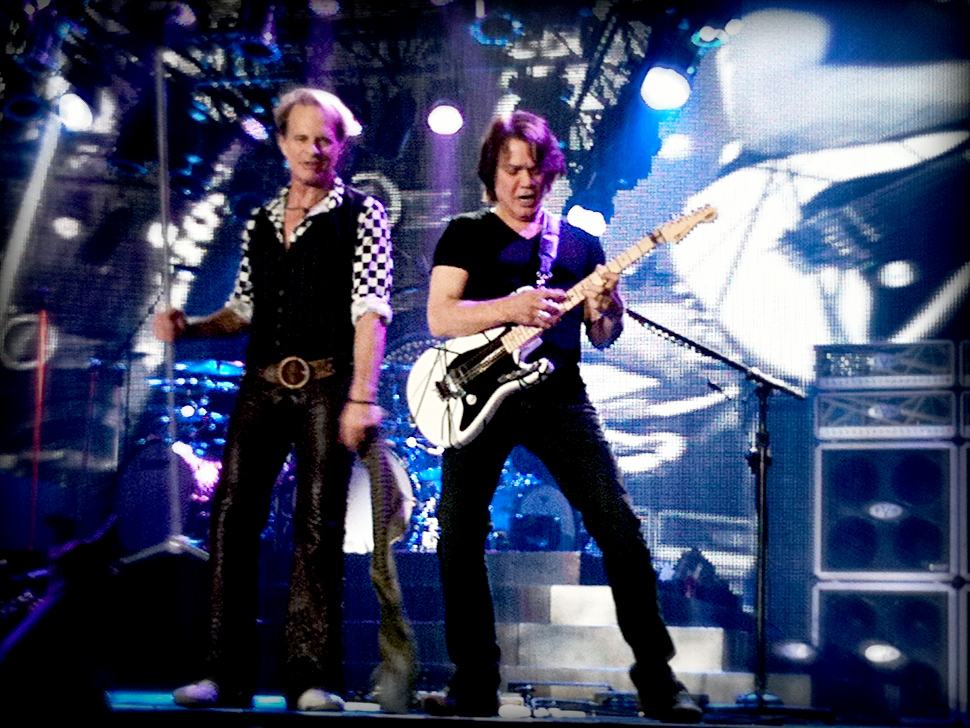 Photo by Jon Zal
Originally published on March 6, 2012 at SoundSpike.com
Only a complete a fool would expect the 56-year-old version of Edward Van Halen to play with the same kind of turbo-charged fury and mind-blowing complexity that knocked the rock world on its collective ass more than three decades ago. And yet, that is exactly what the guitar legend did in Philadelphia Monday night (3/5).
For nearly two hours, Eddie, drummer Alex Van Halen, bassist Wolfgang Van Halen and reinstated frontman David Lee Roth tore through a setlist that was stacked with classic hits, peppered with a handful of new songs from the recently released album "A Different Kind of Truth," and punctuated by some deep cuts that sent the group's diehard fans into a frenzy. Throughout it all, a visibly healthy and happy Eddie Van Halen strafed the arena with an endless barrage of inimitable riffs that reminded everyone in attendance of exactly why he is considered a god among guitarists.
Playing ringmaster throughout the proceedings was Roth (who, mercifully, has abandoned the Madonna-esque headset mic he wore during the tour's first several stops, and has reverted to the far more rock-and-roll-looking handheld version). Clad in black-leather pants and a rotating array of bright-colored leather jackets, the singer shook, shimmied, gyrated and danced his way around the stage (and threw in a handful of his signature karate kicks for good measure) while mostly hitting the mark with his vocals. No one would argue that his voice hasn't suffered with age, but what he lacks in range, he more than makes up for in sheer enthusiasm and effort.
Showing marked improvement since first touring with the group in 2007/2008 was Wolfgang, Eddie's 20-year-old son, who replaced original bassist Michael Anthony. Though still nowhere near the seasoned showman Anthony is, the junior Van Halen displayed some well-earned swagger, and his nimble work on the bass made for a good argument in favor of musical talent being hereditary.
Further fueling that argument was Alex Van Halen's positively thunderous performance on the drums. Were it not for the fact that he plays in the shadow of the man many consider the greatest guitarist of all time, the elder Van Halen brother would be more widely heralded for his skill behind the kit. You know that machine-gun-like intro to "Hot for Teacher"? Yeah, he nails that live. Need more proof? How many drummers in 2012 can get away with a two-minute drum solo that doesn't send half the crowd dashing to the bathroom?
Meanwhile, the solo that every audience member at a Van Halen show anticipates with the same excitement normally reserved for hit singles came late in the set, and if you witnessed a comparatively sloppy Eddie Van Halen perform during Van Halen's 2004 tour, you would be hard-pressed to believe that the guy you saw back then was the same one who made jaws drop last night.
The moral of the story: Anyone who came to the show expecting a mellowed-by-age nostalgia act got a whole lot more than they bargained for. Thank god for that. (And by "god," I mean Eddie.)
SETLIST:
Unchained
Runnin' With The Devil
She's The Woman
The Full Bug
Tattoo
Everybody Wants Some!!
Somebody Get Me A Doctor
China Town
Hear About It Later
(Oh!) Pretty Woman
Drum Solo
You Really Got Me
The Trouble With Never
Dance The Night Away
I'll Wait
Hot For Teacher
Women In Love
Girl Gone Bad
Beautiful Girls
Ice Cream Man
Panama
EVH Solo
Ain't Talkin' Bout Love
Jump