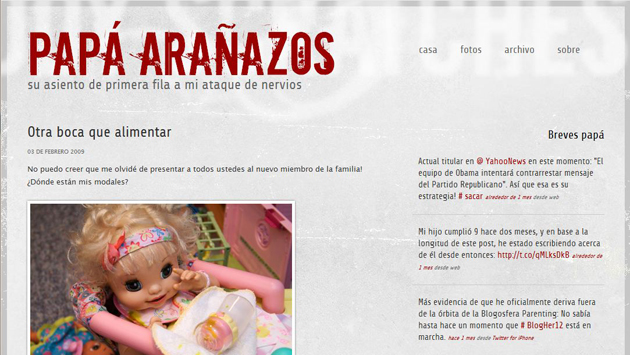 While recently looking at my blog's incoming-traffic data, I discovered that someone had arrived here through a translation link … which, when clicked on, led me to the Spanish version of my website shown above.
Ever since then, I've been wearing a mariachi costume, downing tequila shots and spontaneously shouting "¡Arriba!" at all hours of the day and night. So, you know, same as always. The big difference, however, is that I now am insisting that everyone refer to me as Papà Arañazos. Por favor.
Gracias.

In other news: I got sick of blogging. Not only maintaining my own, but reading everyone else's. I mean, all of these blogs (mine included) started feeling to me like a once-great television series that had gone on for too long. The first four seasons of "Breaking Bad"? Phenomenal. Season 5? Well, it's still entertaining … and I certainly don't blame the writers and producers and actors for continuing with the show. If given the chance, I most definitely would do the same. But Season 4 was a perfect story comprised of perfectly executed conflicts that led to a perfect and wholly satisfying climax. Whereas these so-called Mommy blogs and Daddy blogs? (Again: Mine included.) They just go on and on and on and on … generally without the benefit of attention-grabbing storylines and totally-worth-the-wait climaxes.
All of which eventually caused me to contract such an acute case of "Who gives a shit?"-itis that I took an indefinite blogging hiatus and decided to instead try my hand at fiction writing. And after several months of trying to create something out of nothing, I discovered a couple of things:
Making up a compelling and coherent story is difficult.
Discontinuing my blog didn't result in me having more time to work on my fiction writing; it resulted in me not doing any writing.
So when last week I realized that I missed blogging, I figured I'd dip my toe back in the pool … if for no other reason than to at least do some sort of writing.
Also, I must confess that the following comment recently left on my blog made me realize just how important my writing is to some people:
What I don't realize is in reality how you are not really much more smartly-appreciated than you might be right now. You are so intelligent. You realize therefore considerably in terms of this matter, produced me personally imagine it from so many various angles. Its like men and women don't seem to be fascinated until it is one thing to do with Woman Gaga! Your personal stuffs nice.

All the time handle it up!
Handle it up indeed, my friend. You're damn right I will. All the time.
(NOTE: For some reason, the plugin that guards my blog flagged the above comment as "Spam" … which, clearly, was a mistake. I mean, just because the author included a link to a completely unrelated online store doesn't mean he or she isn't sincere — and, might I add, overwhelmingly correct — about me being "so intelligent" and having nice "personal stuffs." And say what you will, but there is definitely no arguing the fact that it truly is a mystery how in reality I am not really much more smartly appreciated than I might be right now. I'm sure even Woman Gaga would agree.)
In conclusion: I have no idea what the future holds for me, my blog, or my writing in general. I might try to be funny. I might just focus on documenting life so that my kids can one day read about their childhood. I might even get all nutty and offer up some social and political commentary that will piss off and alienate a whole bunch of you. Whatever the case, I've realized that any kind of writing is better for me than no writing.
We'll see what happens.
In the meantime: Handle it up, motherfuckers.