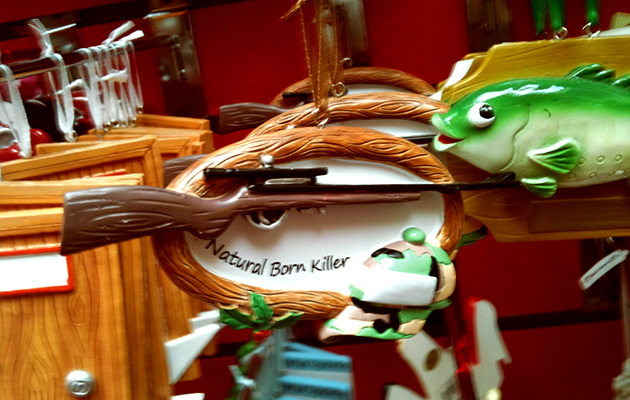 We took the kids to the mall this past weekend for our annual family photo with Santa and, while standing in line, I saw hanging on an adjacent ornament vendor's rack the patently offensive item shown above. (And I'm more than just a little ashamed to say that I didn't, in that moment, have the presence of mind to gather them all up and hand them to the vendor while suggesting that he maybe throw them away.)
"But Jon, that's obviously for hunting enthusiasts. Lighten up."
Lighten up? Really? You want me to lighten up? Because here's the thing: Fuck you; I'm all out of "Lighten up."

And, yes, you're right: That ornament obviously was created for hunting enthusiasts … but I'm certain — or, at least, I'd like to believe — that there are a number of hunting enthusiasts who would look at that ornament and say "Wow. Only a spectacular asshole would buy that."
I'm also sure, however, that there are a number of hunting enthusiasts who would look at that ornament and say "Dadgum, I gotta get me one o' them thar kick-ass orny-ments!" I would further venture to guess that the hunting enthusiasts who fall into this latter category are members of the gun-nut faction that rants and raves about an individual's right to have unfettered access to every kind of firearm known to mankind.
"Yes, but Jon, the Second Amendment says—"
Fuck you and your Second Amendment, asshole. For starters, the Second Amendment was written in a day and age when the only guns available were single-shot muskets that took at least 15 seconds to reload.
Also, P.S.? The Second Amendment, which all you fucking gun nuts quote as being "The right to bear arms shall not be infringed"? That's only part of the sentence, douchebags. Here's what the Second Amendment ACTUALLY says:
A well-regulated militia, being necessary to the security of a free State, the right of the people to keep and bear arms, shall not be infringed."
News flash: A "well-regulated militia" doesn't mean "every flaming asshole with insecure feelings about his penis" or "every rich divorcee who thinks it would be fun to buy a military-grade assault rifle and join the local target club" … and it most certainly doesn't mean people like this douche canoe:
All of that changed, however, when in 2008 the conservative majority of the Supreme Court decided that, despite two centuries' worth of legal rulings to the contrary, the Second Amendment actually does bestow upon individual citizens the right of unfettered gun ownership. The majority opinion in the 5-4 Supreme Court ruling was written by Justice Antonin Scalia. Here's a 2007 picture of Scalia: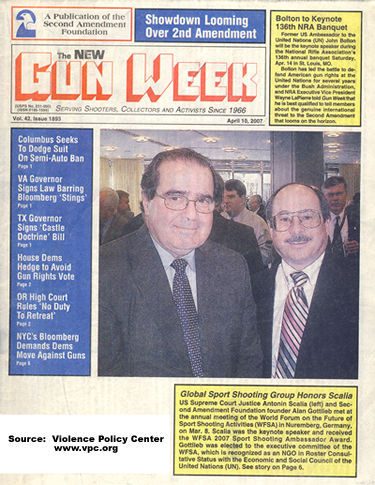 He's the guy on the left … on the cover of 'Gun Week' magazine. The picture accompanied a feature that The Huffington Post described as follows:
[An] article celebrating the ambassadorship bestowed on Scalia by the World Forum on the Future of Sport Shooting Activities (WFSA), an international organization comprised primarily of gunmakers and pro-gun organizations (including the National Rifle Association and the Second Amendment Foundation) from around the world.
[Emphasis mine.]
So, in other words, the man who in 2008 was largely responsible for striking down 220-plus-years' worth of legal precedent in which court after court ruled that the Second Amendment doesn't mean everyone gets to have their own fucking arsenal … was honored in 2007 as an ambassador of the gun industry.
Am I the only one who thinks this is batshit crazy?
And it is against this backdrop that nightmares like Aurora and Newtown are taking place.
All of which is to say: I'm so upset about what happened last Friday that I don't know what to do with myself. Ranting about the out-of-control gun culture in this country seems like as good a place to start as any. Asking you to add your name to this petition seems like another. (Yes, you have to go through the inconvenience of creating an account on the White House's website. Suck it up. If you have time to create a Facebook account and a Twitter account and a Flickr account and a Pinterest account and an Instagram account so that you can clutter up the Internet with pictures of your cat, you have time for this. Hell, I know you have time for it by virtue of the fact that you're sitting here reading my dumb blog.)
This is my third holiday season at my current workplace, and today was the third time I've been on hand for an annual holiday performance by a kindergarten class from a private school owned and operated by my employer. It was pretty similar to the performances I'd seen the previous two times … with the one major difference being that it was the first performance during which my eyes kept filling with tears as I watched the 20-or-so beautiful, innocent, happy little kids sing their hearts out and tried to push from my mind the horrific thoughts of last Friday that keep flooding my brain every time I see a little kid … especially my own.
We have a responsibility to each other as a society to do something about our out-of-control gun culture. When you live in a country where those beautiful, innocent, happy little kids are getting gunned down by some monster toting a military-grade assault rifle, you can rest assured that YOU'RE DOING IT WRONG. And all you gun nuts who say otherwise should get a clue … because using the argument that you must have your own private arsenal just in case you need to overthrow the government is beyond ridiculous.
Gun nuts in my replies: "We can't haz no common-sense gun control o' any kind cuz we might hafta ovathrow the guvment!"

Me: "Oh." pic.twitter.com/6QC1X6ywPU

— Jon Zal ???????? (@jon_zal) November 26, 2017
You see, the thing is: The rest of us common-sense-having types aren't nearly as afraid of the government as we are of you dumb, untrained, unrealistic-hero-fantasy-having motherfuckers with your assault weapons and concealed handguns.