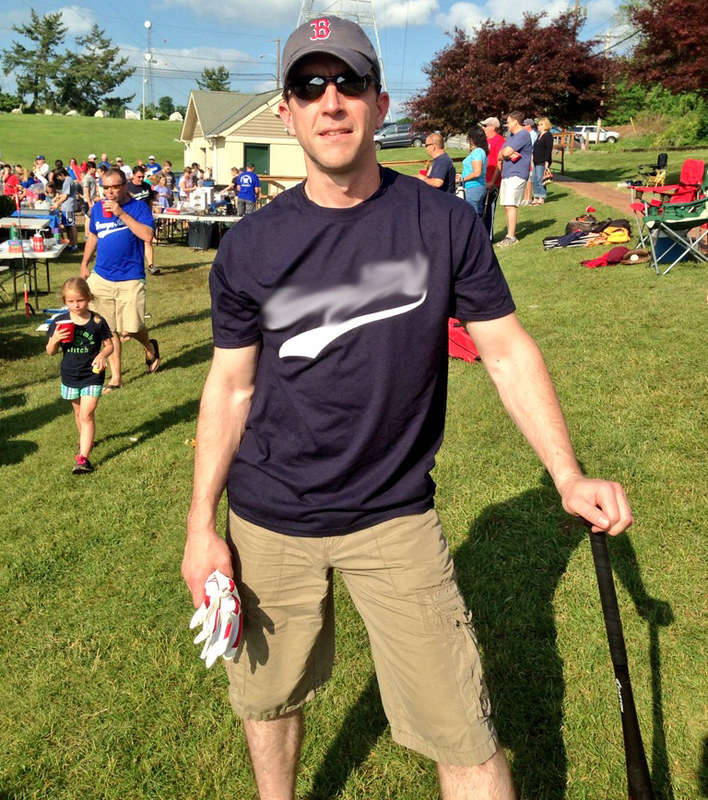 That previous post really set the stage for an exciting, emotional, underdog-makes-good kind of ending, didn't it? (If you didn't read it yet, you should.) Imagine it: the shrimpy, non-baseball-playing kid scarred from his less-than-enjoyable Little League experience steps to the plate more than three decades later and belts one over the fence.
Oh, if only. sigh
And our fairy-tale ending would have been even more dramatic if, on the night of that recent home-run derby, our hero was the eighth batter, and the seven other batters who went before him — all of whom have substantially more baseball-playing experience — failed to hit a single home run.
Ten swings each. Seventy swings total. Zero home runs.
And now let's imagine our hero stepping to the plate under the piercing gaze of dozens of onlookers, to include his own children, both of whose teams he coaches, and both of whom believe he knows something about hitting a ball … and let's watch him take 8 of his 10 swings without producing a single home run himself.
But it's OK … because no one really expected him to put one out. In fact, they'd probably have been stunned if, on the second to last pitch, he swung the bat … and connected … and drove one straightaway to deep center field … and planted the ball on the far side of the fence. I can only imagine how incredible that moment would have been … and in my imagination, that incredible moment would have looked like this:
Wha wha WHAT? Hold on just a minute. Let's see that again in slo-mo. (Don't worry; I'm not going to drag it out or make it seem more grandiose than it really was):
Yes, my friends, fairy tales can come true … it can happen to you … and all you need to do is practice … and believe in yourself … and suck down a couple of highly potent Cabo Wabo margaritas shortly before your turn at bat.
I was the first guy to hit a home run at the home-run derby. That is a thing that actually happened. And for a little while, I got to strut around like the cock of the walk while men, women and children congratulated me and high-fived me and generally marveled at my overall awesomeness.
And my kids had a totally killer "That's my Dad!" moment that made me feel like a hero.
In conclusion:
Therapy to recover from the emotional scars left by my childhood Little League experience: $160 per hour.
Easton Hammer baseball bat: $49.99.
I just saved a ton of money on therapy.