I love me a nice bar … and this one here — Masa — is my favorite in all of Boston.
On Saturday, my wife took me on an overnight excursion in the city to celebrate my 40th birthday (which is next Sunday *shudder*). We stayed at the lovely Back Bay Hotel (a very cool old building that used to be the Boston police headquarters back in the day), and then planted ourselves at the beautiful, copper-top bar at Masa, where we again were treated to some delicious margaritas courtesy of our favorite bartender, Mr. Greg Neises, who also just so happens to be a talented photographer.
This part of the bar is very aesthetically pleasing, but it is the massive tequila selection (not shown, with the exception of the obscured bottle of Cabo Wabo Añejo in the bottom right corner) that really makes me feel all warm and fuzzy inside … literally.
You know what I love? I love getting serenaded with the "Happy Birthday" song at a restaurant, and instead of a cake, the thing they put in front of you with candles on it is a raft of Cabo Uno tequila shots.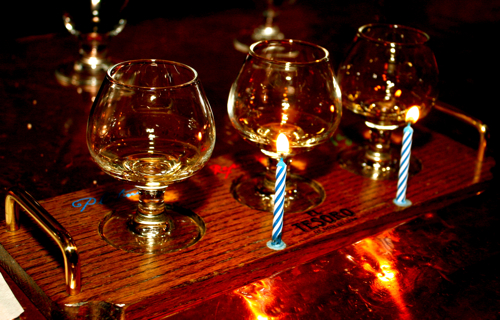 Happy Birthday to me.