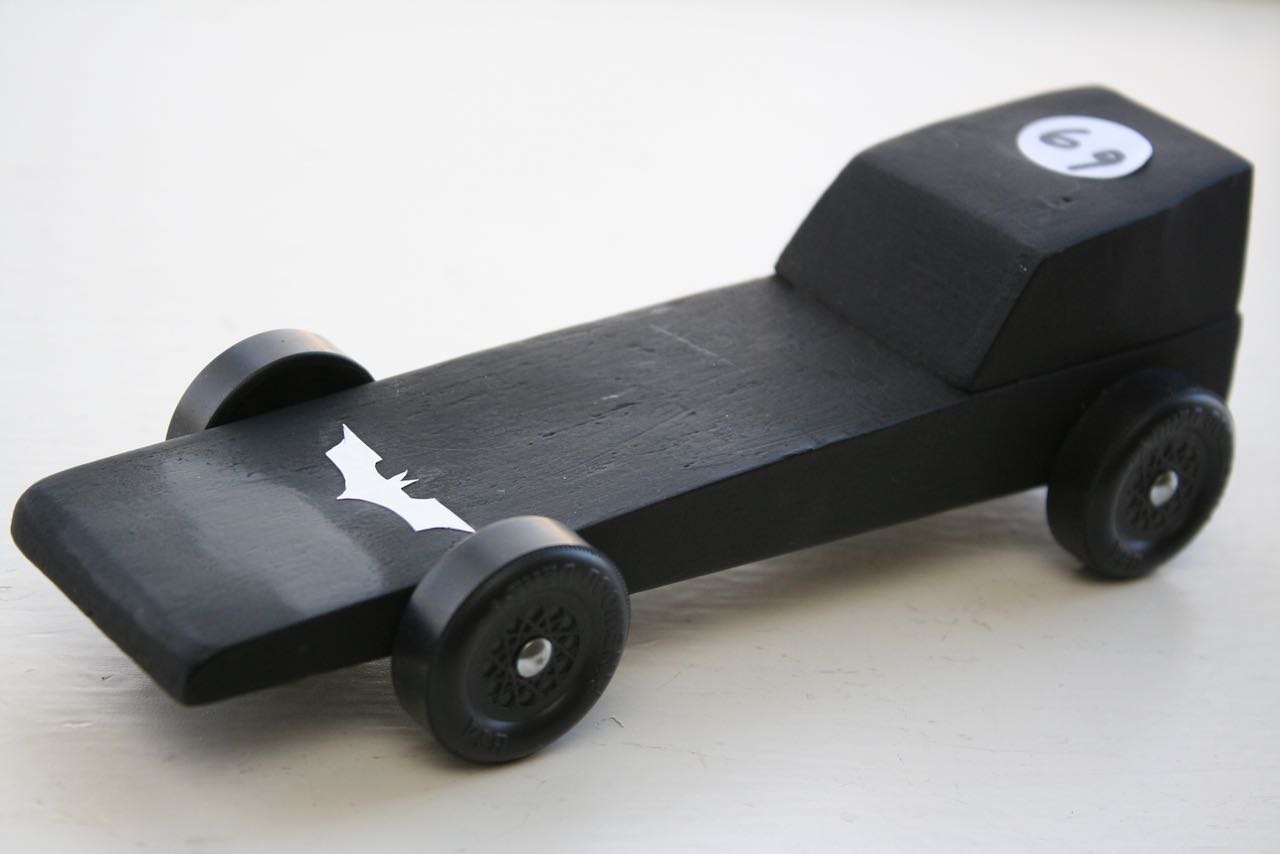 It was supposed to be so simple: take the little block of wood, cut it into a car-like shape, slap some paint on it, attach the wheels, ta-dah, done, finished, no sweat.
Of course, when it comes to me, nothing is simple … particularly a pseudo-carpentry project.
You need a Pinewood Derby website? Well, hot damn: I'm your man. I can code the living shit out of your Pinewood Derby website. You need me to make a functional Pinewood Derby car out of a block of wood? Yeah? How 'bout I just conjure up some unicorns for you while I'm at it?
Actually, it wasn't the mere fact that I had to make a functional car out of a block of wood that unnerved me; it was that I had to make a functional car out of a block of wood well enough so that it could hold its own against all the other cars—cars that I was quite certain were being crafted by dads who all had, like, engineering degrees and previous Pinewood Derby experience … and, you know, tools.
And it wasn't that I gave a shit if the other cars made by the other dads beat ours in the race; it was that my 6-year-old son was counting on me to not be THAT dad … the one who makes the shitty car that all the other kids laugh at and whose owner they ostracize and taunt until the day that child shows up at the prom and gets blood dumped on him as a prank and subsequently uses his telekinetic powers to burn the whole fucking place down with everyone still in it.
So, yeah, maybe I was putting some unnecessary extra pressure on myself. Wouldn't be the first time.
But, seriously: I had no idea where to even start.
"OK, no problem," I thought. "This is exactly the sort of thing that the Internet's for, right? I'm sure there's plenty of info online that I can tap into."
And, yeah, there's plenty of Pinewood Derby info on the Internet … enough info, in fact, that one could conceivably create the most spectacularly kick-ass Pinewood Derby car of all time … so long as you're willing to buy, like, special molds made specifically for straightening the nails that hold the wheels on the car, and you have access to every woodworking tool in Santa's workshop, and you own your own airbrush machine.
In a desperate attempt to come up with some kind of workable plan, I paid $12.95 for a downloadable PDF of design instructions for building a Pinewood Derby car. No, I am not even kidding. The digital booklet contained plans for three types of cars, two of which appeared to require assistance from NASA, and one of which was, essentially, a doorstop. Guess which one I picked?
Perhaps the most unintentionally funny part about the Pinewood Derby is that the car ostensibly is to be built by the child with assistance from the adult … and yet it also requires, minimally, the use of a band saw and a power drill. I'm 40 and I don't trust me with those things, let alone a 6-year-old.
Thus, for about a week, the ever-so-little free time I had was a blur of sandpapering, and drilling, and hammering lead fishing weights into shapes that would fit inside the holes I had drilled into the car's body, and applying wood putty to close up the weight-filled holes, and more sanding, and black spray-painting (how creative!), and a positively painful hour or so of cutting with an Xacto knife one botched "Batman" logo after another, until finally, the night before the big event, I ended up with the thing you see above.
Did I mention that it had to weigh five ounces? Because it had to weigh five ounces … which, of course, meant that, when my son and I arrived (barely on time, as is my custom) at the race site on the morning of the Pinewood Derby and the grown man in the Scout garb at the weigh-in table placed my son's car on the scale, the display read "5.13" ounces.
"That's a problem," Scout Man said to me as I pictured grabbing him by his sanctimonious head and introducing his nose to the table that stood between us.
"Awesome!" I replied, and then, using a small screwdriver as a chisel, engaged in a desperate attempt to pry from the car's underside one of the lead weights hidden beneath the wood putty. Five minutes and one bleeding finger later, I succeeded … because, quite frankly, failure was not an option; I would have gnawed through that car like a fucking beaver to get that weight out before I would have let my son get disqualified from this stupid-ass race that I so badly wanted to put behind me.
Fortunately, my son was oblivious to all of this drama. All he knew was that I had made him a Batmobile, and he liked it, and it performed admirably … even managed to nab first place during one of the four heats in which it ran.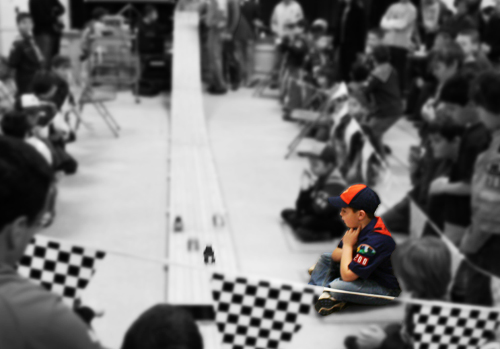 He was happy. And that is the only reason I do all this shit.