Take a look at this screen capture and tell me what you see: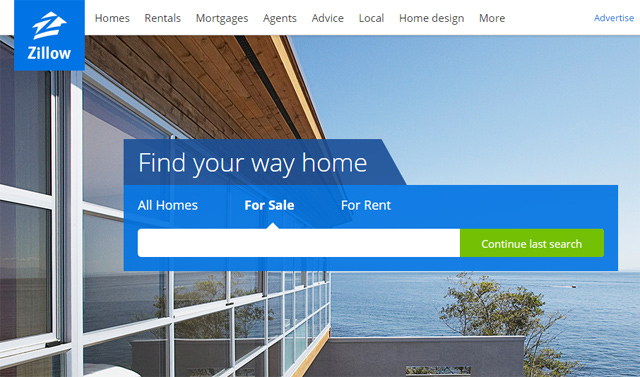 Chances are you see the homepage of Zillow.com, a site where one can go and look up the supposed value of any given home. That's what I used to see, too.
Now? Now I see this: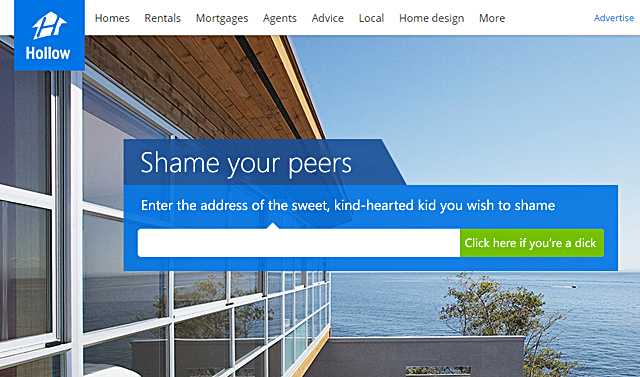 Allow me to explain.
Back when I was a kid, maybe the shittiest thing we'd do is give some nerd a wedgie … and by "we," I mean the little assholes I went to school with, and by "some nerd," I mean me … but that's beside the point.
Anyway … I recently discovered that technology has rendered obsolete the good ol'-fashioned wedgie.
A few weeks ago, my son was goofing around with some friends and acquaintances on a baseball diamond when one of his classmates — whose identity I shall protect here by referring to him with the more anonymous and yet simultaneously more accurate name of Rotten Little Shit — announced to my son and the other boys the following:
"Hey, Z, I looked up everybody's house on Zillow last night to see how much they're worth, and yours was the cheapest. Did you know your house isn't even worth as much as a Lamborghini? How does that make you feel?"
Well, I don't want to speak for my son, but I can tell you how it made ME feel when I learned that Rotten Little Shit intentionally went out of his way to make my son feel less-than and purposely tried to embarrass him in front of his friends based solely upon my financial resources: It made me feel like going to his expensive house, tying him down in his expensive front yard and using him as a lawn-dart target.
See, here's the thing: When we moved here from the Boston area about five years ago, we could have bought a McMansion for less money than we ended up spending on the much older and far more modest house in which we now live … but the McMansions were all located in shitty school districts, while the much older and far more modest house in which we now live is located in what recently was ranked as one of the Top 5 school districts in the entire country.
Unfortunately, "I live in one of the Top 5 school districts in the entire country" isn't something about which an 11-year-old boy can reasonably be expected to get super excited … especially when that 11-year-old boy's peer group is largely comprised of millionaires' offspring, all of whose homes are worth at least three or four times more than ours.
Of course, I also am well aware that "We live in an exclusive hamlet, surrounded by affluence" is a first-world problem, so I hope this doesn't come off like me whining about being low man on the upper-middle-class totem pole. I'm merely explaining that it is a unique kind of parenting challenge to raise one's children in an environment where one's resources are far surpassed by those of the other children's parents.
Fortunately, we have so far done what I would describe as a more than respectable job of teaching our children to accept the fact that there will always be people with more than us, and there will always be people with less than us, and instead of focusing on what we don't have, we need to appreciate what we do have and how lucky we are to have it.
"So Mom told me what Rotten Little Shit said to you about our house yesterday," I said to Zan when I picked him up from school the following day. "That was a pretty lousy move on his part."
"Yeah," he said without much interest.
"You know, usually, when someone does something like that, it's because they don't feel so great about themselves, so they try to make themselves feel better by putting other people down."
"I know," he said, still unfazed.
"And we don't have anything to be embarrassed about. I know we live in a place where a lot of people have more than us, but we have a nice house and everything we need, so you shouldn't let anyone make you feel bad about that."
"I know, Dad. I really don't care about what Rotten Little Shit said. It didn't bother me."
And I realized with equal parts relief and pride that he meant it.
Also? I realized I'm raising a kid whom I know would take absolutely no pleasure in making one of his peers feel bad about themselves. You can't really put a price tag on that … but I can assure you that it's worth far more to me than the fair-market value of my house.