Over the past three decades, I have amassed a body of work that comprises writing from my days as a local reporter, music journalist, and blogger, as well as a skill set that includes extensive experience in web development, online publishing, social media, and podcast production.
Below are some samples of my work, as well as additional details about the specific technologies and tools with which I'm most familiar.
Please click/tap on a heading below to reveal that section's content.
Humor
For about a decade, while raising young children, I published a blog where I wrote what I like to think were riotiously funny yet deeply poignant tales about learning how to be a father. I was what, in the colloquial term of that bygone era, was known as a "Daddy Blogger."
In retrospect, it was a largely an excercise in over-sharing and being unnecessarily profane, and I've since removed from the Internet most of the pictures of, and stories about, my children ... but the following posts are a few of the pieces I published back then that readers found particularly chuckleworthy, and that mostly don't besmirch my family's honor:
Please click/tap on an item below to open the respective post in a new window.
Personal Essay
A few more items from my "daddy-blogging" days that don't quite fit in the "Humor" category, but are worth highlighting. (Actually, the baseball one is pretty funny.)
Please click/tap on an item below to open the respective post in a new window.
Van Halen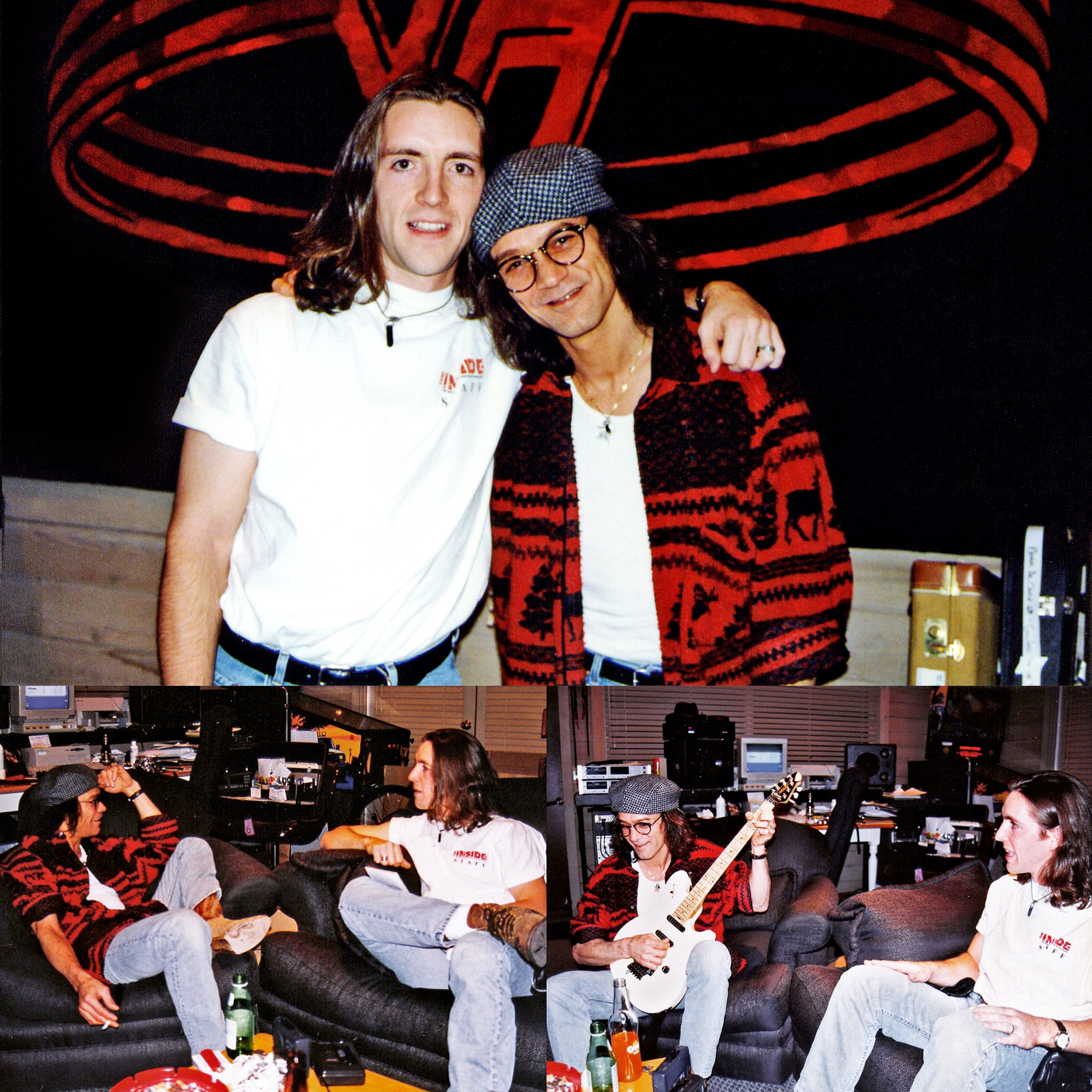 So that there's me with late guitar legend Edward Van Halen at his home studio, a.k.a. 5150. (Yes, I'm bragging and showing off, but, hey, can you blame me? And let's give credit where it's due: I think we can all agree that me waiting until the third section of my portfolio to make mention of my Van Halen-related employment instead of plastering it at the top of the page speaks to my incredible restraint and humility.)
Back in the late-'90s, I was the Managing Editor/Art Director of Van Halen's official magazine. It was a quaterly, glossy, four-color publication that generally ran about two-dozen pages and had an international distribution in the thousands. I handled all of the image preparation (Photoshop), design, pre-press digital layout (QuarkXpress), edited all of the copy from our other writers, and enjoyed perks such as regularly interviewing the band members, having backstage passes for their 1998 tour, and spending a day with the group at Ed's studio.
Below are four of the covers I created. Unfortunately, the publication was print-only, so there's nothing for you to click on, nor any interior content I can share with you here, but, if ever we cross paths, I'd be happy to show you a hard copy and tell you all about my time with Van Halen.
Politics
Around the time my children reached ages at which I no longer felt comfortable posting blog entries about them on the Internet, Donald Trump became president. This offended me in a way that, for a time, was all-consuming, and I pivoted from "daddy blogging" to "obsessively ranting about politics."
Almost every single prediction I made or hopeful outcome I tried to will into existence during Trump's horror-show presidency was dead-wrong and doomed to failure ... which put me in good company with just about everyone else who tried to make sense of the dystopian nightmare that consumed American democracy like a raging wildfire in recent years. Still, writing about it helped me stay somewhat sane, and gave me a way to vent my frustration while bonding with like-minded folks.
Please click/tap on an item below to open the respective post in a new window.
Podcasting
While working as a full-time music journalist for Ticketmaster, I scripted, voiced, and handled all digital post-production and distribution of our daily and weekly "LiveDaily News" podcasts. More recently, I've been recording and distributing via Apple Podcasts, Spotify, Amazon Music, Stitcher, and other popular podcast outlets audio versions of my blog posts. (You can see the full implementation of my distribution channel at podcast.jonzal.com.) My point: I know how to both create and distribute podacasts.
Below are some samples that you can listen to by clicking/tapping on the play button included in each item:
Red Sox
Why just enjoy something when you can instead turn it into more work for yourself, am I right? My love of the Red Sox runs deep. So deep, in fact, that I felt compelled to create my own little corner of the Internet where I could write about them. I've mostly let it die on the vine in recent years, but the franchise isn't going away any time soon, and (knock on wood) neither am I, so there'll be more to come here in the future. Meanwhile, here's some of what I've done there so far:
Interviews
During my stint as a music-journalist, I had the tremendous fortune of interviewing some of my favorite artists. Here are a few noteworthy conversations from that time:
Concert Features & Reviews
True story: I once got paid to attend concerts and then write about them. No, seriously:
Web & Computer Skills
In addition to my extensive writing, editing and podcasting background, I also have more than a decade of professional IT experience, primarily as a web developer. While I'm most interested in advancing the writing/editing/podcasting aspects of career, my expansive technological skill set makes me an invaluable resource on any web-based content-creation team. That skill set includes the following:
WordPress

HTML 5

CSS 3

PHP

MySQL

Apache

Git

GitHub

Sourcetree

BitBucket

VS Code

Atom

Google Tag Manager

Google Analytics

Google Cloud Platform

Google Maps

Google Drive

Amazon s3

Jira

Slack

Cloudflare

Adobe Photoshop

Adobe InDesign

Adobe Audition

GarageBand

Microsoft Office

Mac OS

Windows
Photoshop
I have extensive experience preparing images for both print and online display. The items below are equipped with a slider that you can drag to from side to side in order to see some before-and-after examples of images I've manipulated using Photoshop.
Back in 2018, I had the unbelievable good fortune and tremendous honor of randomly encountering late civil-rights legend and United States Congressman John Lewis on a sidewalk in Washington, DC. I cherish this picture ... even more so after having color-corrected it and removing the pedestrian from the crosswalk.

This picture of my maternal grandmother was badly damaged in a house fire that occurred when my mother was a little girl. I restored, printed & framed it for my Mom.

The Patriots finished the 2007 season undefeated ... so I paid tribute to them on my Sox Nation website with

this reimagined version of KISS's "Destroyer" album cover

. Not sure if Tom Brady and the other Patriots players whose faces I used saw it ... but KISS liked it enough to post it on their official website.